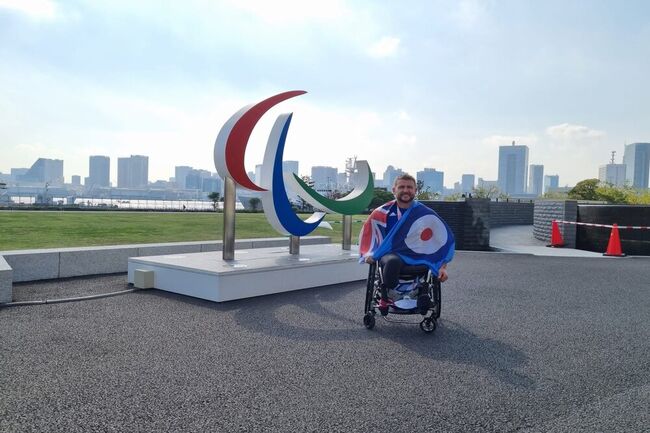 I felt a wave of joy and a wave of relief
Paralympic gold medallist and Fund Ambassador Stuart Robinson tells us what it felt like to become a history maker at the Tokyo Games. In this guest blog he discusses how he was determined to turn his injury into a positive.
I've shied away from the limelight really, I'm quite happy to get back to a routine like taking the kids to school and then coming home to relax. It's taken quite a while to get over the jetlag to be honest, and get back to normal.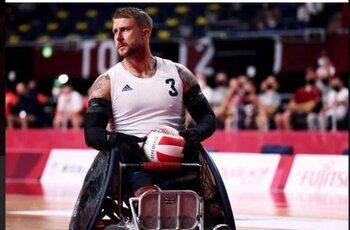 Just getting to the final was an achievement for the team, the Japan match was really tough. I was sat on the bench for the last quarter of that game, so eight minutes, and it was the longest eight minutes of my life. And then we were in the final and assured of a medal – I was over the moon.
On the way to the final game we were on the bus and I said to some of the guys, yes we should be proud of what we've achieved and that we'll be the first European side to medal at the Paralympics but we should not stop there. We knew we could create even more history and win the gold medal.
When we knew we were going to be facing America, who beat us in the group stage, because of some unforced errors on our part. We knew if we tidied that up and we studied their game we could beat them.
The feeling when we knew it was over was unbelievable. It was a little bit like the first medal I won at the Invictus Games, then I was too tired to celebrate. But this time I knew I wanted to take it all in. I felt a wave of joy and a wave of relief. For the last two years we have been creating a team identity, a team canvas of who we are. And we embodied everything we wanted to be. I felt really proud that we had done it for the team, and everybody at home.
We had been in a bubble for three weeks in Japan so we did not really understand the impact it had had back home. It was amazing to see. After the game I picked up my phone and it went mad. My son George was the first to call. I answered and he was immediately telling me where I missed a pas or a catch – he made sure I was grounded!
To be able to compete in the Paralympic Games was beyond my expectations. After I was injured I knew I wanted to get into sport because I was active before. I could not have gone on without being active so I was lucky to find a sport I love playing. My injury did not dampen my spirit, I knew there was still an opportunity to go out there and make something of my life.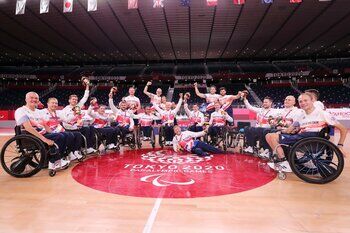 We're looking forward to the European Championships in February next year, where we will be the defending champions. Later the same year we will be going to the World Championships.
For me, winning has made the hunger to go out for more success even greater. With such a short gap between the Paralympics it would be a shame to not go out there and defend my medal.
Stuart Robinson was patrolling with the RAF Regiment in Afghanistan when the vehicle he was travelling in struck an IED. Stuart was left with life-changing injuries which resulted in him losing both his legs and severely damaged his left arm.