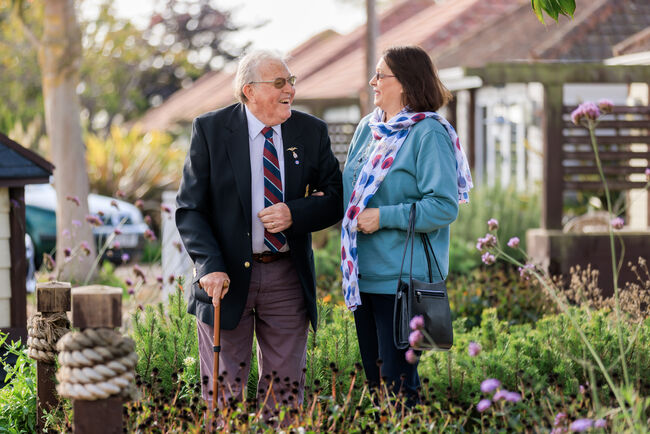 The RAF Benevolent Fund introduces wellbeing breaks
Retired members of the RAF Family can find themselves with few social events to take part in following their exit from service.
Many of these elderly ex-servicemen and women are like Juliet, who has been supported by the RAF Benevolent Fund in other areas of her life and has benefited from joining the first in our series of wellbeing breaks.
The comprehensive breaks, designed by our welfare team, are introducing beneficiaries to 'care' in a fun, interactive and relaxing way.
As specialists in respite care, the welfare services team at the Fund are passionate about serving our members and enhancing their overall wellbeing in ways, which are proven to improve their mental and physical health, as well as strengthen important relationships.
This year, the Fund's group break took place at the Warner Hotels Lakeside Break Resort in Hayling Island, Hampshire. Where ten RAF Beneficiaries accompanied one another across four days of bingo-playing, archery and range shooting – all while sharing stories with one another about their time serving in the RAF.
One such lucky breaker is Juliet Sellars from West Sussex. Julie served in the RAF as an Engineer at a RAF Wittering and left shortly after getting married.
Now living in an RAF Housing Unit Julie, accompanied by her ex-serving neighbour Patricia, believe this will be one of the last leisurely breaks away from home they will experience in years to come.
Juliet said: "Because of my mobility issues, I did not think I'd see the day that I'd be on a holiday again. It's given me a confidence boost."
She added: "Having the team from the RAF Benevolent Fund accompany us on this break means that I do not have to worry about a holiday that would otherwise come with a bunch of anxieties due to my physical condition. There's always help at hand."
The breaks are planned and hosted by the Benevolent Fund's Welfare team, which specialises in respite care. The purpose of respite care is to alleviate serving and ex serving members from the daily stressors of life and enhance their overall wellbeing, offering comprehensive solutions designed to improve their lives overall.
Before the RAF Benevolent Fund was offering breaks of this nature, Julie had not often left the house and struggled to find activities that would separate her from her usual routine.
She said: "This has been the first time in years that I've thoroughly enjoyed myself. Although I fear that it may be one of my last holiday memories – I do hope that there will be more to come."