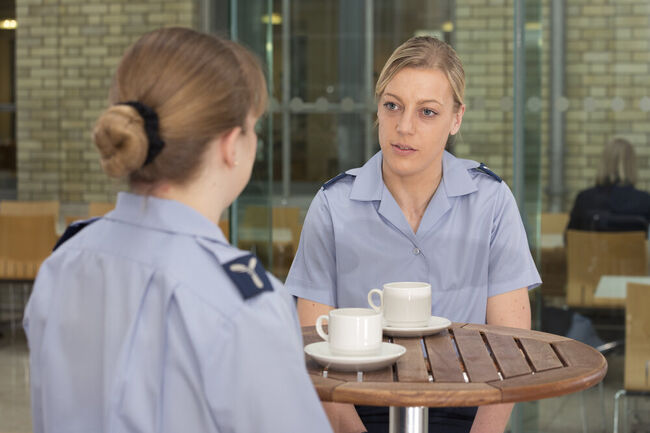 Supporting serving personnel at RAF Brize Norton, every day
Earlier this year, RAF Brize Norton received a £14,000 grant from the RAF Benevolent Fund to continue their dedicated Citizens Advice Service. RAF Brize Norton caseworker Julie Rogers explains the impact the funding has had on serving personnel and their dependants.
We can all face problems that seem complicated or stressful. Citizens Advice supports people to find a way forward, and we believe no one should have to face problems without the good quality, independent advice we offer. The main principles of Citizens Advice are that the advice we give is free, impartial and confidential. We can help with all sorts of things and thanks to the RAF Benevolent Fund funding, personnel and families get priority access to a caseworker directly on station.
In the last month I have dealt with a range of issues including someone who received a Fixed Penalty Notice for littering and another who found out that they had no vehicle insurance. I have submitted a homeless application to the council for an individual who will have to leave their quarter following a marriage breakdown and helped to complete three benefit applications for disabled children. I have also undertaken a 'debt assessment' to establish what options are available to an individual who feels under enormous financial pressure. Signposting for further support is also a big part of my role. The services offered by the RAF Benevolent Fund to support with emotional wellbeing, family relationships and debt management are vital for those that I see. 
Jessica Price, Community Development Officer at RAF Brize Norton, added: "Thanks to the RAF Benevolent Fund we're incredibly fortunate to have Julie on station, providing a high quality service to our community. Julie has a wealth of experience working with the RAF and combines her expert knowledge of civilian housing, local authority procedures and benefits with a unique understanding of how the RAF operates. We see first-hand the impact that her support has as a result of the Fund's investment in the RAF Brize Norton community." Citizens Advice West Oxfordshire are at RAF Brize Norton every Tuesday and Thursday.
Personnel and family members based at the station can book an appointment by contacting RAFBrizeNorton@citizensadvicewestoxon.org.uk.
By Julie Rogers