"Why I love my Airplay youth club"
Airplay member Isabelle is a regular at RAF Linton-on-Ouse youth club and she loves in. In this guest blog, the 11-year-old tells us why.
I really love youth club. This is for so many reasons, li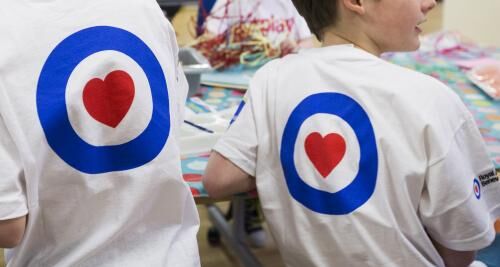 ke the activities, the leaders, the tuck and the trips. My favourite trip was the time we went to the seaside! We got fish and chips, got to go in the sea and built sandcastles and turtles out of sand! It was so fun going there with all my friends.
Even when we are just in the building we have loads of fun like air football, snooker, hide and seek and so many other things. Since we were on base, we had fields to run around in, so we got some exercise while having fun. But the best bit was seeing all my friends, RAF and civilians.
I was disappointed when I heard that RAF Linton was closing but was pleased that Airplay could keep running for a bit longer. During lockdown, every Monday at 7pm, I would log on and see all my friends and our leaders. Every week we would get a pack, this would be filled with craft equipment and/or sweets! Yummy! I don't know what I would have done without youth club but sit on the sofa and watch TV. Everyone at the club is always happy, which makes it a lovely environment to be in.
The leaders are always around and helping you. Ours are called Nicole and Charlie, they always make you laugh and think of cool games and challenges to do.
At Airplay, the room is colourful and bright. So are all the people there. We often have parties; we once had a Christmas party and even one for Halloween! We have a common room, where we can chat, play video games and watch movies! We also have an activity area where we do our crafts. Though we have all this luxury, we have a kitchen and a general fun area! In this room, we can buy tuck and eat them whenever we want.
This is why I LOVE Linton-On-Ouse youth club and cannot see why anyone wouldn't. So, thank you to my leaders and everyone who takes part.