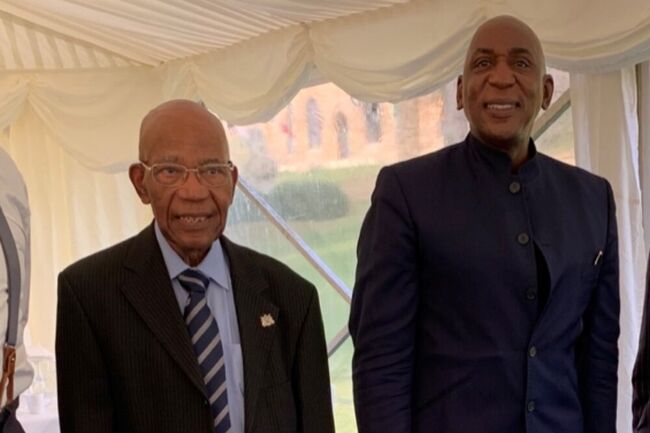 From the Windrush to an MBE for services to equality and diversity
To mark Black History Month this year, we are celebrating the diversity of our RAF Family. Hollywood actor Colin McFarlane's father Sidney is a member of that family, having been called up under National Service laws and staying for a 30-year career. In this guest blog, Colin tells us his father's story.
My dad Sidney McFarlane's service in the RAF is a remarkable one of which I am hugely proud. If any of his contemporaries are reading this, they would remember him better as 'Mac'. Mac arrived in England as part of the Windrush generation in 1955 aged 20, with a glowing reference in hand to work for a British engineering company called Reginald Aitken Ltd.
He had been employed by the company, back in Jamaica; only to be told there were no white collar jobs for people of colour in England. It was a huge blow he didn't see coming from the country he had so much admiration for. As a result, as Mac was unable to secure work that matched his qualifications, he ended up having to settle for a job as a bus conductor where he ran the gauntlet of racist insults.
Then in 1957, out of the blue, he was shocked to learn, that although he could not be accepted in an office environment, he would nevertheless be accepted for National Service for the 'mother country'. He'd never even heard of this before and the prospect filled him with trepidation but he had no choice, he was a British citizen from the colonies and it was the law (1948 National service Act). This new turn of events was about to change the entire direction of his life.
Mac decided to marry my mother Gwen immediately prior to joining, to underscore their commitment to be together for the uncertain journey ahead. Little did he know this journey would last 30 years and result in him being awarded an MBE for his service in the Armed Forces.
Mac's original weekly pay in the RAF was £2.50 a week rising to £7.50 when he became a regular. Racism was rife in the country at that time and I always remember him explaining to me as a child that at least in the RAF there were rules and you would be more protected than his fellow countrymen were on 'civvie' street. That was one of the reasons he decided to stay along with some other unique benefits such as excellent RAF hospitals and educational support for the children.
Education was always vitally important to both my grandfather and my father and when my dad learnt that the RAF would pay a contribution towards the private education of myself and my two brothers that sealed it and it allowed us all to be educated at the brilliant Perse School in Cambridge.
Mac served in the personnel and administration branch throughout. He worked his way up from the bottom, got commended for meritorious service at every NCO (non-commissioned officer) rank and was the first black officer I ever saw when growing up on RAF bases; eventually reaching the rank of Squadron Leader. Along the way, he served in Bahrain, Cyprus, Germany three times, Holland, and all over the UK, from as far south as RAF Devizes, to as far north as RAF Fylingdales in Yorkshire. Stations included RAF Laarbruch and Rheindahlen in Germany, HQ AFCENT in Holland and Akrotiri and Episkopi in Cyprus.
The stories he told me of having to turn the other cheek in the face of discrimination alongside the stories of kindness and generosity will always stay with me. I will never forget the wonderful experience of going to primary school in Cyprus from nine to 11 years of age, starting at 7am and finishing at 1pm and spending the rest of the day at the beach…heaven! And then having to evacuate when the island was invaded in the early 1970s. At the time that seemed like an exciting adventure to me and the other service children, but it wasn't quite like that for the adults who understood the seriousness of the situation.
My father came to love the life in the air force, from the dances and the balls in the Sergeants' Mess and later Officers' Mess, to the wonderful house parties I would spy from my bedroom!… to his days as a cricket umpire (his favourite sport) where he also excelled. I also remember while in Germany our family becoming close to a German doctor's family and getting to ride their horses and bikes and having a German tea with a mountain of gorgeous cakes to devour!
The cultural experiences were vast and inspiring, we all learnt so much. It was a full and rich life that has left he and my mother with so many wonderful memories and so much to be grateful for and ultimately provided the foundations for the life and acting career I have gone on to enjoy. My father is rightly proud of all he achieved with the RAF, ably supported by his wife, my brilliant mother Gwen.
Since Colin wrote this article for us Mac has been made an Honorary Doctor of the University of Lincoln, to reflect his contribution to both the local community and the University since its inception. He was invited to make a speech upon accepting the award in Lincoln Cathedral.