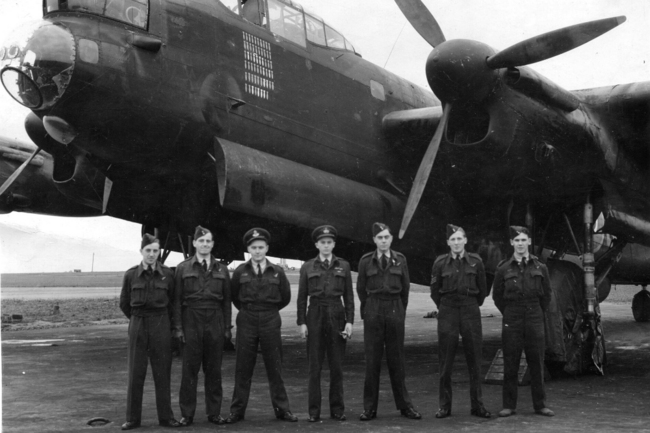 "I had never seen so much food in all my life"
On Friday Warrant Officer Jack Watson will mark the 75th anniversary of VE Day quietly, remembering his comrades and the 'band of brothers' who saw him through 77 operations flying with Bomber Command during the Second World War. In 1945 Jack had just been deployed away from frontline flying and not knowing many personnel on station, jumped on his bike to celebrate at a nearby village. Now 96 he tells his story in this guest blog.
For 15 months I flew with the same crew, as part of the Pathfinder Force, and we became very close. The mid upper gunner, wireless operator and I were never out of each other's company, we even used to go on leave together. For 15 months we had lived the strangest life, without a break. One night we were over Germany and the next we were all going to the pub in the village!
For me, my war ended when I was posted away from frontline flying. All the excitement and adrenalin of flying was taken away from us and we were split up without warning. I never got over that – it was like a bereavement to me.
We never had time to get together to talk over what we had gone through together as before we knew it we had all been posted away. We never found out why we had been split up so quickly as we had never failed to complete an operation and our skipper got a glowing report over his control as master bomber on our last operation at the way he had controlled the raid.
We are proud that our crew were awarded 1 DSO, 5 DFCS, 3 DFMs, a Belgium Croix de guerre (to our Mid-Upper Gunner) and all awarded the Pathfinder Badge. We always felt that these awards also acknowledged the untold acts of bravery that were not recorded because the crews did not survive to record them.
When I heard the news of VE Day, I was serving on an Operational Training Unit. I had only recently arrived so I didn't know many people. I grabbed my bike and cycled to a village pub where I had a few drinks until the pub closed at 2pm. I sat under a tree and waited for it to open for the evening.
Then I joined a farmer and his family, who invited me back to his farmhouse when the pub closed. There was a big long table and I had never seen so much food in my life – there was cheese, butter, you name it!
I didn't feel that feeling of euphoria or elation like others, because something had been taken away from me.