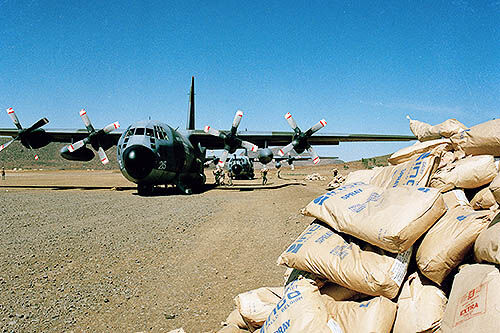 RAF carried out vital food drops to tackle famine in Ethiopia
As we get ready to remember the 70th anniversary of Operation Manna, former Hercules navigator Paul Hewson looks back on the humanitarian aid mission he took part in. Operation BUSHEL became one of the biggest air-drops of its kind when more than 32,000 tonnes of supplies were delivered to the starving people of Ethiopia. In this blog Paul talks about his experience delivering the aid to end the famine which inspired Bob Geldof's famous Christmas hit.
A Hercules C1 from RAF Lyneham lands in Ethiopia to bring famine relief in 1985. Crown Copyright 1985.
The plight of the Ethiopian people was first highlighted by BBC journalist Michael Buerk who visited the country in 1984.
His moving report went around the world and governments responded to the public outcry by launching a humanitarian aid mission.
The RAF was at the forefront of this effort and sent six Hercules C-130s to help the disaster relief operation in November 1984.
Operating out of the capital city Addis Ababa, the crews flew four to five sorties a day, in difficult conditions.
The most badly affected areas were high into the mountains with only rough landing strips which presented challenges to the pilots and navigators.
Paul said: "We had the capability and we had already been trained to do the work so it was quite an easy thing to slip in to. It was natural that Britain would be asked to help."
Flying in at incredibly low levels, sometimes as close as 15ft, the aircraft completed four passes to drop four pallets of aid.
Paul continued: "Everything that was burst they would all be there sweeping everything off the drop zone, take it back and sifting to get every single grain and it brought it home to us really how hungry these people were and looking at them you could see they were absolutely starving."
The Hercules was the perfect aircraft for the job – its versatility meant it could be landed on short, dusty strips in remote places. In fact, 'Fat Albert', as it was nicknamed, could be described as a lorry with wings, such was its capability to deliver supplies and personnel.
By the end of the mission in December 1985 the RAF had completed 2,152 sorties.