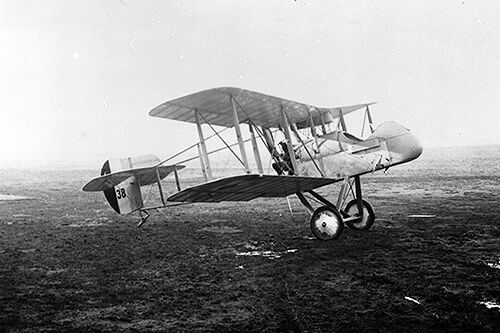 A Victoria Cross on the first day of battle at the Somme
Having paid for his own flying lessons just three years before the Battle of the Somme, Welshman Lionel Rees had no idea what lay ahead of him on the first day of the battle. 
Born in Caernarfon in 1884, Lionel Rees was commissioned into the Royal Artillery in 1903.  But with a keen interest in aviation, he paid for private flying lessons to earn his Royal Aero Club flying license in 1913 and was seconded to the Royal Flying Corps at the start of the war. 
In less than six months in France, Rees and his gunner had claimed six victories, earning Rees the Military Cross and a reputation as an aggressive, skilful pilot.
After returning to the UK and retraining on the de Havilland DH2 fighter, he returned to France in May 1916 as the Major in command of No. 32 Squadron.  The new aircraft was a single-man 'pusher' plane with the engine in the rear and the pilot manning both the aircraft and the gun.
As the Battle of the Somme opened on the trenches below him on the morning of 1 July 1916, Rees set of on an offensive patrol that would earn him two more victories and the Victoria Cross. 
His citation reads: "Whilst on flying duties, Major Rees sighted what he thought to be a bombing party of our own machines returning home, but on getting nearer discovered that they were a party of enemy machines, about ten in all.
"Major Rees was immediately attached by one of the machines, and after a short encounter it disappeared behind the enemy lines damaged.
"Five others then attacked him at long range, but these he dispersed on coming to close quarters, after seriously damaging two of the machines. Seeing two others going westwards, he gave chase to them, but on coming nearer he was wounded in the thigh, causing him to lose temporary control of his machine. 
"He soon righted it, and immediately closed with the enemy, firing at close-contact range of only a few yards, until all his ammunition was used up.
"He then returned home, landing his machine safely in our lines."
After recovering from his serious injury, Rees returned to duty in 1917 and eventually retired from the Royal Air Force in 1931. He served again in the RAF in the Second World War before retiring as a Group Captain in November 1942.