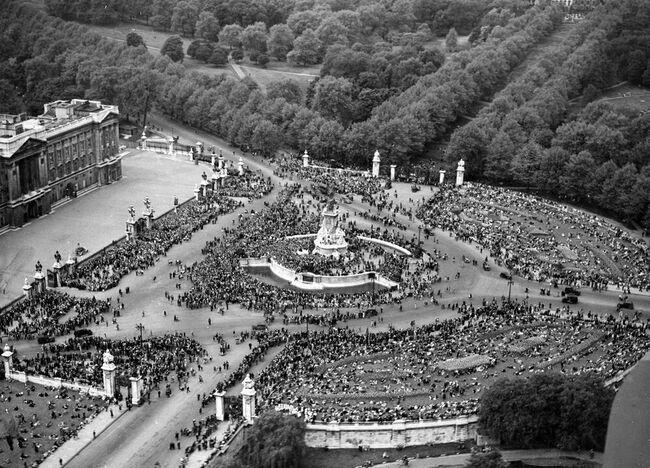 "We lifted the piano out and lit it on the parade square"
Seventy-six years ago today the Allies celebrated as peace was declared in Europe. Such was the delight of Sonny Davies and his comrades, they dragged a piano into the parade square and set it alight! In this guest blog, former Lancaster bomber rear gunner Sonny shares his memories of the day.
I was stationed at RAF Elsham Wolds in Lincolnshire at the time. We heard the news on the radio and were immediately celebrating. We were excited and looked around thinking 'what could we do?'.
So we lifted the piano out and lit it on the parade square! The Station Warrant Officer wasn't happy but there wasn't much he could do about it – there were so many of us! Everyone was flabbergasted!
During the war I was a rear gunner on Lancaster bombers, flying 50 operations – 30 on my first tour and 20 on my second. I chose the RAF because I didn't want to go and get muddy with the Army! But it was wonderful being able to fly.
We saw it as a job, somebody had to do it and that somebody was me. It was frightening at times but we just got on with it. I joined as soon as I could, aged 17 and a quarter – I was lucky, I survived.
Sonny Davies is supported by the RAF Benevolent Fund, receiving regular 'Check and Chat' calls from our welfare team.