Gardening is like 'natural medicine'
This Mental Health Awareness Week, Amileigh Salt shares how gardening has helped her to grow not only plants but also spirituality, during the global pandemic. Polytunnels provided by the RAF Benevolent Fund at RAF Leeming helped her and her family embark on a new hobby.
The daughter of an RAF serviceman, Amileigh is well used to the challenges of being part of a military family. At times, this has taken its toll on her mental health. As a child this manifested itself as alopecia, and as an adult she has suffered with anxiety and depression.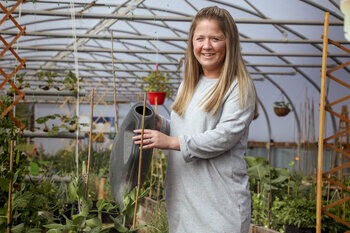 It was pure luck that she and her husband Ash, who works as a Corporal second line engineering support, workshop supervisor at RAF Leeming, had decided to apply for a plot in the polytunnel just a few weeks before lockdown in March 2020. It gave the couple something to focus on and direct their energies.
The 29-year-old said: "Gardening gives me the chance to escape from the real world. I can reflect on what's going on around me and take everything in. It is like a little recharge, just pottering around doing my pots. You feel as if a weight has been lifted off your shoulders."
Trips to the polytunnels are now a daily occurrence. Amileigh often takes her son, two-year-old Archie, with her to the plot, which, despite admitting she struggled to mow her own lawn in the past, has proved to be a great success. Last year's crop has spurred the family on to take on another plot and this year they are planning a bumper harvest.
Amileigh added: "My husband benefits too – it's like natural medicine. After he's spent time here it reduces his stress levels and improves his overall mood.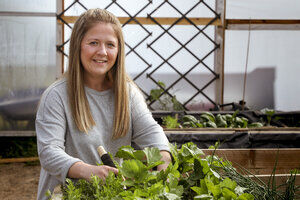 "If we had not had this plot last year, I know the lockdown would have had a detrimental effect on me. It gave me some sort of normality, to get up and get down there. I know when I am feeling down, I can go there and get away from it all, which has been so important especially when we have been isolating from everybody."
The RAF Benevolent Fund awarded RAF Leeming a station grant to cover the cost of the polytunnel, raised beds and compost to create the allotments.