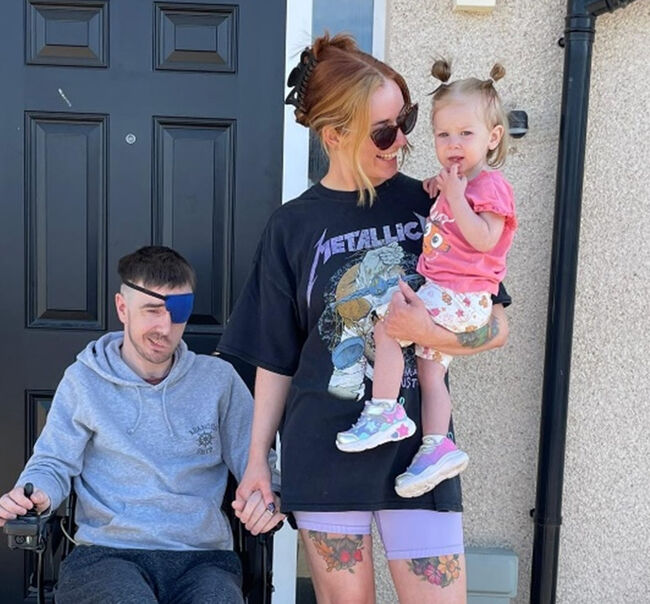 "Getting used to our new life is a struggle – without support from the Fund I don't know where we'd be"
In 2021 life for Andy and his family, as they knew it, changed in an instant. After suffering a serious brain haemorrhage, RAF weapon's technician Andy Layton was left unable to talk, eat, and walk. Faced with their new reality, we spoke to Andy and his wife Helen about the support from the Fund which has helped to lighten the load during their time of need.
Corporal weapons technician, Andy Layton, 32, served in the RAF for 14 years, until one day unexpectedly in 2021, Andy suffered a brain haemorrhage leaving him in critical care. Spending eight months in hospital and a further six months in rehabilitation, Andy has experienced a prolonged journey in recovery, with ongoing physiotherapy at home to continue his progress.
At the time of his injury, Andy's wife Helen, now 31, was three months pregnant and hospitals around the UK were still in the height of COVID-19 restrictions. With Helen being the only one permitted to visit Andy and keen to keep up her daily visits, the fuel costs and long drives between home in Elgin and the hospital in Aberdeen, were becoming increasingly more difficult and costly with each month further into Helen's pregnancy.
Andy received a medical transfer from RAF Lossiemouth in Scotland to RAF Boulmer in Northumberland, to be closer to family in Newcastle. The Layton family reached out to the RAF Benevolent Fund for financial support and received six months' worth of rent payments to enable their move to Northumberland. Without the Fund, Andy and family would have been stuck in Scotland struggling with long distance travel and keeping up with mortgage payments.
Helen describes the Fund's support in moving them to Newcastle as a 'pivotal moment' in their journey. Helen said: "Without the Fund, I would have been stuck doing the journey back and forth to hospital everyday whilst heavily pregnant. There wasn't a day I didn't see Andy – I couldn't leave him. By moving down to Newcastle, the Fund helped to open up the support network we needed from both of our parents."
Andy's injury affects the brain stem and has limited certain functions including the ability to swallow, use of his vocal cords, his mobility and movement in the left side of his face. Rehabilitation has given Andy the skills he needs to improve his mobility, using a wheeled walker and a power chair, although his recovery is far from over yet.
The Layton family moved back to Scotland in 2022 once Andy was medically stable. Andy is now more independent, needing very little support and able to care for their 20-month-old daughter Lyra. Although life is very different now to how they predicted life would be as a newly married couple starting a family in their early thirties, the Layton's have adapted to their new lifestyle. Helen has started a part-time job facilitating baby classes with flexible hours to fit around her family's needs, and Andy is participating in weekly physiotherapy to build his strength over time.
The Fund has provided equipment to make living at home more accessible for Andy, installing a wet room and sliding doors in their recently purchased house in Elgin – which they intend to become their forever home.
Helen expressed her gratitude for the support from the Fund, saying: "It's hard to put into words how much the support from the Fund has meant to us. It has given us the freedom to live our lives together how we've wanted to. Without that help, in particular the financial support, I don't know what would have happened to my mental health. I was already very low but doing it all by myself would have been extremely difficult."
Helen continued: "It is a huge comfort to know that the Fund is always there – without them we wouldn't have our house and we are so grateful for the ongoing support that we have needed at such a difficult time."