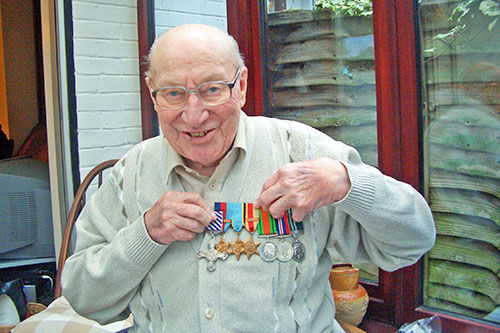 How we helped the family of Battle of Britain pilot Jimmy Corbin
Battle of Britain pilot Jimmy Corbin DFC was made a Freeman of Maidstone in 2010, only the 38th person to be honoured in more than a century. After his death in 2012, the RAF Benevolent Fund was able to help Jimmy's wife, Jeanne, who after being diagnosed with Alzheimer's, was finding it more and more difficult to cope at home. Jimmy's daughter Margot explains how we helped her family during a very difficult time.
Towards the end of his life my father needed 24-hour care and he wanted to be at home, the thought of a nursing home filled him with horror, he wanted to come home to end his days, and we wanted that for him too.
When he died, a lot of the money that mum and dad had saved had gone on his care, and there wasn't a lot left to care for mum.
Social Services gave us three and a half hours worth of paid care – so I had a gap that we as a family needed to cover.
It was tough, we didn't want mum to go into a home. Mum and dad had been married for 56 years, she loved the home they lived in – it was familiar and with her condition it's important to keep that familiarity.
The situation I was faced with was to either decrease the amount of care I had for her, find the money to pay for extra care at home or the third option was that we kept the house and found someone else to support us. Social Services advised us not to change her care as she wouldn't have liked the change.
I absolutely had no expectations that the RAF Benevolent Fund would be able to help us, after all, my father was dead; it was his family who were in need of help. When they said they could help fund the extra care we needed it was a godsend – we were ecstatic!
My father would be so pleased to know that she is being so well looked after. When dad died it was such a difficult time as I realised the enormity of what my brother, sister and I had to do because the journey was not over for my mum. But for the first time in three and half years I saw some light at the end of the tunnel knowing that mum is where she wants to be surrounded by her own things.