Sandra Payne: My Story
Struggling by on Universal Credit and using foodbanks to feed her family, RAF veteran Sandra Payne, was in her own words, 'on skid row'. But a referral to the RAF Benevolent Fund's Benefits Advice Service identified £14,000 of income which had wrongly been deducted from her payments and her life changed immediately.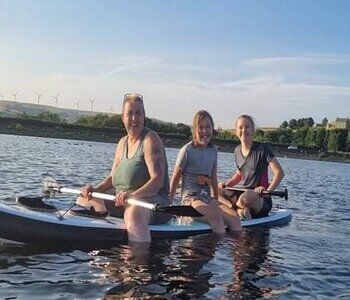 For 17-year-old Sandra, joining the RAF as a weapons engineer promised a life of adventure, with a spanner in hand, rather than stuck behind a desk. But all that ended in a split second when a work accident left her with a severe back injury which led to hospitalisation and eventually a medical discharge.
Sandra, now 55, said: "I absolutely loved it, playing with toys at work. It is not surprising that apart from the health stuff, what really affected me was the loss of my RAF Family. The RAF became my family, because I wasn't close to my own. The boys were my brothers and my bosses were like my father, because I looked up to them and asked them advice."
Sandra's injury means she has low mobility and often needs to use sticks or a wheelchair to get around as well as needing a stairlift to access the upper floor of her home. She is also in receipt of a 43.5-hour Local Authority care package which helps her manage day-to-day, supporting her two children. Due to this she is unable to work and relies on support through Universal Credit payments.
Laura Austin-Pugh, one of the Fund's benefits advisors reviewed Sandra's case and discovered her Service Attributable Pension, which should not be counted as income, was being deducted from her Universal Credit. The difference is an extra £445 a month, as well as a backdated lump sum of £14K.
Single mum Sandra said: "When I saw how much they owed me I nearly fell over. My jaw dropped and I cried. The payment has been life-changing. Instead of applying to the Fund for a grant to buy school uniforms for my kids, I've been able to move house. Now I have a home much more suited to my needs, I'm putting in a ground-floor bathroom and bedroom as well as a fully accessible kitchen.
"It means everything to me to be able to do things for my kids and to have a garden as well. I told the Local Authority three years ago they'd got it wrong, but they didn't listen to me. Laura helped me make them listen."