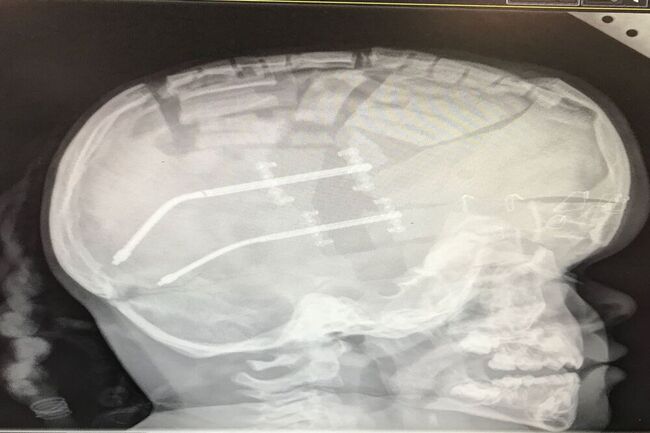 "We had no spare capacity to think with so much going on"
As a Chinook pilot, Squadron Leader Jeffrey Fitzpatrick is used to weathering challenging professional situations. But when his daughter was born with a rare syndrome, life changed instantly. In this guest blog, Fitzy explains his family's journey, and how the RAF Benevolent Fund were there to help.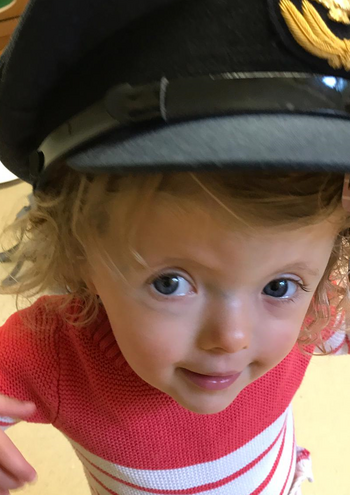 I'm RAF through and through. My dad was a pilot, serving for 35 years, and I grew up near RAF Brize Norton. At university I eventually got the chance to learn to fly with Liverpool University Air Squadron and in 2006, I was selected to go through Initial Officer Training.
I went on to RAF Aldergrove, RAF Shawbury and RAF Benson, where I flew with 78 Squadron. During my time as a Merlin pilot, I completed five tours of Afghanistan during the peak of the UK's military activity. In 2015, just after my last tour, my daughter was born.
When she arrived, both my wife and I thought her head shape looked a bit unusual. But given the difficult birth, we were told that this was common. We had enough time to send out messages to loved ones, telling them our happy news.
It was only when another doctor walked past the room and asked to have a look at her that we realised something might be wrong. And so it began. As a new family we were suddenly bombarded by medical professionals filing in to see our daughter.
My wife and I, exhausted from a challenging pregnancy and labour, found ourselves with the beautiful baby we had wanted, but full of fear and confusion. This worry blocked our ability to really enjoy the first few months.
After tests and genetic profiling, we were told our daughter had Saethre-Chotzen syndrome, a cranial facial abnormality where the joints in her skull hadn't grown as they should have. This resulted in an abnormal head shape which can cause the brain to be compressed. Luckily, she was born in the John Radcliffe Hospital in Oxford, one of four specialist centres for this condition in the country.
Her first surgery was at nine months old, to help correct the shape of her skull by cutting a section away and fitting bolts. My wife and I then had to turn a bolt each morning for weeks to slowly move the back of her skull out and stretch her scalp. This made a significant difference but was step one of many.
Every week would bring a new challenge. She stopped sleeping, spending nights screaming before being diagnosed with epilepsy. Then came a period when she was exhausted in the mornings – further testing found this was caused by pressure in her brain increasing.
Another operation was performed to bring the front of her skull forwards, leaving her face so swollen that her eyes couldn't open. She was very weak, and the pressure on her optic nerve before the operation had meant she had developed blind spots. After months of recovery, we thought that was the end of the process, but it wasn't to be.
The following summer we noticed her behaviour and physical abilities were changing – the pressure on her brain was building again. A drain called a shunt was inserted into her brain. This made a huge difference but unfortunately blockages were and are still common.
The most severe blockage was last summer before I was about to deploy to Mali and with Covid-19 still rampant. She had three neurosurgeries in 48 hours, eventually being released the day before I left the country. Unfortunately, she needed more surgery while I was away, leaving her weak and having to use a wheelchair.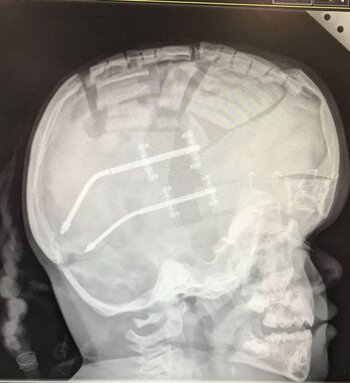 We found it very tough when in 2016, following maternity leave, my wife went back to work as a cardiology and intensive care manager. Long hours, the commute from RAF High Wycombe into London, and multiple weekly hospital appointments were nigh impossible to manage, especially following the arrival of our second daughter.
We reached breaking point when my daughter needed her second major set of surgeries, resulting in a long and complicated recovery.
Despite being well enough, our nursery wouldn't let our daughter back for six weeks, but we were still expected to pay for that time. My wife, being absent from work for so long, stopped being paid and we found ourselves with childcare fees, hospital costs and living costs to cover with one salary. We had no spare capacity to think with so much going on.
I didn't know anything about the RAF Benevolent Fund and hadn't spoken to the station about any support available. Like many who serve, I didn't think the Fund was for me. A friend suggested the Fund was positioned to help exactly with situations like ours and before we knew it, support was offered. We received a Minor Financial Assistance grant to help with childcare costs for a short period. It was a significant help and so easy to access during what was a testing time.
Later the Fund helped again by providing funding towards a Radio Aid. This special, but expensive, microphone links to my daughter's hearing aid, allowing her to hear better in noisy environments such as school. It's normally available through the local council, but it takes a long time and when you move areas you have to leave it behind and start the process again, making it incompatible with military life. Having a personal Radio Aid has changed my daughter's future. It's vital for her education, a lifeline to her achieving her best and making friends.
My daughter's life will always be challenging but she's intelligent and doing well – a miracle given all that's happened in her short lifetime. The support from the Fund at critical times made such a difference and I wish more people knew about the many ways the charity can help. Seeking support was incredibly straightforward and assistance was instantaneous.
Life in the RAF can be extremely busy, but you don't have to be at breaking point before you seek support. If you need them, they are there for you.
By Squadron Leader Jeffrey Fitzpatrick