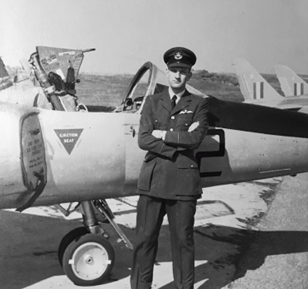 A look back at the extraordinary 1963 forced plane landing by former Pilot Officer Ian Christie-Miller
18 October 1963 is a date that is ingrained in Ian Christie-Miller's memory forever. It is the day he survived a forced landing in a Gnat at RAF Sealand, while flying from RAF Valley.
Ian had completed his Advanced Flying training on the Gnat aircraft at RAF Valley in Anglesey, and his final trip was to be solo. He was tasked with flying from RAF Valley, then descending for low level flying over East Anglia, before returning at higher level back to RAF Valley. As a result of a fire warning at 39,000 feet he completed the correct fire drill, turning the engine off in the process as per the protocol. Ian sent out a MAYDAY call and continued his descent under instructions received. In spite of added difficulties, like an unserviceable direction indicator, he calmly followed directions to make a forced landing. He set up a forced landing at RAF Sealand, a disused, hazardous airfield – not Hawarden – and had no option but to land there.
Ian said: "On my final approach, I saw some pylons which I managed to fly under. I hit the runway threshold at the right point but, because it was short and there was a crosswind, the aircraft veered off, striking a hare, a wire mesh fence, a flood-light pole and a disused water tank, where the plane landed on its nose, trapping me inside it."
Thankfully, Geraint Williams, who was working on the airfield for the gas board, saw the plane crash, jumped in his Land Rover and helped get Ian out just using his penknife, a shovel and his hands.
Looking back at the incident, Ian explained: "I was then taken to the Chester Royal Infirmary Hospital with severe leg injuries. My left leg was totally disconnected from the knee. They thought they might have to cut it off but they managed to put it together. Two months later, the RAF sent an aircraft to transport me to RAF Hospital Halton, where I spent the next year and a half including rehab at Headley Court."
Recovery was long for Ian, who was left with a shortened left leg and screws in his right leg. He also experienced an infection to his wound and had more than ten operations.
Despite his injuries, Ian went on to have a happy and fulfilling life with his wife and children, and returned to flying duties in the RAF a year and a half after his accident. The leg injuries prevented return to Gnats but he then flew helicopters, including two tours on Search and Rescue. Ian was invalided out of service in 1977.
The RAF Benevolent Fund were there to support Ian and his family however, contributing towards housing costs and help with funding the education of the children. Ian said: "The Fund did so much to support me, my wife and our two children. We remain deeply grateful."
It wasn't until recently – 60 years after the incident – that Ian was contacted out of the blue by his rescuer Geraint Williams and his wife, Heather. Heather said in a letter penned to Ian:
"This week we celebrated our 60th wedding anniversary and we have been reminiscing. I remember the night of the 18th vividly. Geraint came home and was not himself at all. He was unable to eat his dinner and refused to tell me what was wrong until the following morning.
We think of you often, especially this time of year and are very grateful to have found a way to contact you. We hope you have a good life and are keeping well."
The four met up on the 15th October 2023, where they reminisced about the incident and how it had affected both sides.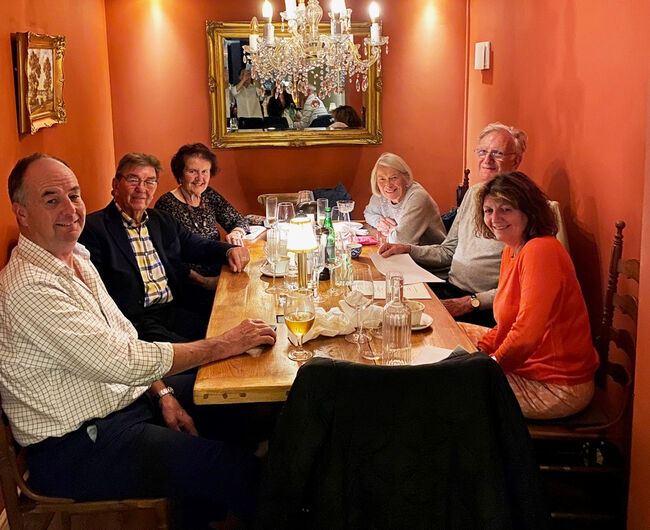 Ian said: "Geraint is one of the genuinely Good Samaritan people out there – he was recognised by the Gas Board for his efforts in saving my life and was given a well-deserved award. During our reunion, Geraint shared some helpful papers, including a photocopy of a letter from my father, and one that I had written to him from Chester Royal Infirmary, although I don't really remember writing it!"
Reflecting on his side of the story, Geraint said: "I could see this plane coming – it went underneath the pylons and I knew then it was going to crash. I went after the plane in my Land Rover and helped Ian out using just a penknife, a shovel and my hands. I was there by myself with Ian and after a while the rescue services came. The most important thing was that I was there to help. My wife and I think about it every year."
Ian concludes: "I'm indebted to Geraint for his bravery in saving me, and also to the RAF Benevolent Fund for supporting my family and me afterwards. We had no home after I had to leave married quarters and we were in a very vulnerable situation with uncertain finances. The support was a bedrock to us – it helped stabilise our situation and for that I'm so grateful."