The first Ben Club opened its doors last week at RAF High Wycombe.
With over 20 children and Ben Elephant in tow, RAF High Wycombe Station Commander, Group Captain Phil Lester was proud to announce the opening of the Ben Club: "We are delighted to have Airplay youth activities at High Wycombe and the launch of the Ben Club is great news for the families that live here. Providing a rich and rewarding programme of activities for our kids is a very valuable thing, and we are very grateful to the RAF Benevolent Fund for helping this project come to light."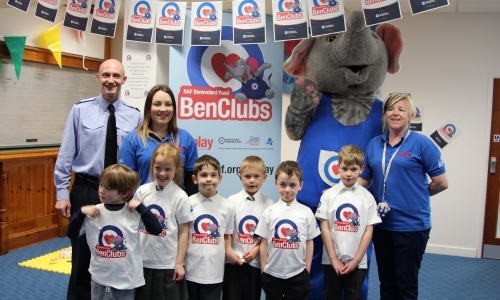 Mum Becky was equally excited about the project: "I think Ben Club is a really good idea, in terms of their age group, because there is definitely a need for something for the younger ones.
"It gives them a chance to get used to youth club before they join the older group too," Becky continued. "My youngest has always wanted to go to the older group. She comes with me to drop off her older sister and she likes all the arts and crafts they do."
Ben Clubs forms part of Airplay, an RAF Benevolent Fund sponsored initiative which encourages children to take part in an array of social activities at RAF bases. Ben Clubs is a new initiative for five to seven year olds, and encourages more youngsters to enjoy the benefits enjoyed by their older counterparts.
Following the opening, 14 parents have already signed up their kids to the Club, with many more expected over the Easter holidays.
To find out more about Airplay and Ben Clubs and see how you can help, visit www.rafbf.org/airplay.