World War Two veteran Cpl Ron Short remembers while VE Day celebrations took place in Europe, the fighting continued in the Far East.
For the last two years of the conflict, Ron was stationed in India and Burma, working as ground crew keeping the Beaufighter planes airborne as they fought to contain advancing Japanese forces.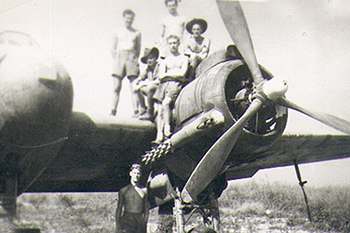 He said: "I was engaged on servicing the aircraft. I was lucky that by the time I got there in 1944 it was just at the turn of the tide. They had just about started chasing the Japanese from north Burma back to the south."
Ron, now 91, joined the RAF on his 18th birthday in 1941, along with a group of his pals. One of four brothers who all served with the RAF during the war, he felt compelled to do the 'right thing' and serve his country.
As ground crew he spent time on several different squadrons, servicing a variety of aircraft, including Spitfires and Mosquitos before being sent overseas to join 27 Squadron in 1944.
He said: "It was hard work in a way. The worst time was during the monsoon season when we had to do all the maintenance work outside because we did not have any hangars! It was strange at first we used to moan about the heat and everything but you just got on with it."
Relief spread through the troops when VJ Day was announced on August 15, three months after the declaration of peace on VE Day. For those stationed in India, VE Day had passed without much fanfare. They knew their battle had yet to end.
But with the welcome news of VJ Day came celebrations, and even an extra ration of rum!
Ron said: "We were just pleased it was over. We were all quite overjoyed because it meant that we would be on the way home. The war was over and that is what most of us joined up for."
On his 90th birthday rather than receive gifts, Ron asked his friends and relatives to consider making a donation to the RAF Benevolent Fund instead. His generosity means the Fund can go on helping all of the RAF family, including veterans who served their country during conflict.
Ron said: "Some people are in need of help and some people, like me, are lucky enough to be able to do without. I did not want presents or anything like that so I thought perhaps what little bit we collected could help someone else."
If you would like to support veterans like Ron, please make a donation today.