Five-year-old Jacob Newson will be climbing Pen-y-Ghent in Yorkshire wearing his RAF flying suit, with his dad Andy at the end of August in order to raise money for the RAF Benevolent Fund, the RAF's leading welfare charity.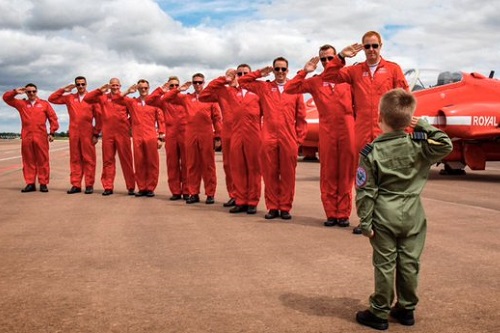 The father and son, who live in Leeds, were inspired to raise money for the RAF Benevolent Fund after the Red Arrows surprised Jacob at the Royal International Air Tattoo (RIAT) in Gloucestershire last month. Andy posted a tweet asking any pilots and officers in uniform to return Jacob's salute at RIAT 2019 as he only received three returned salutes at the air show in 2018.
The tweet quickly went viral and soon after Andy was contacted by a member of the media team at RAF Lossiemouth, who helped set up the ultimate surprise salute for Jacob.
Andy said: "Jacob has been fascinated by planes since he went to his first air show when he was just nine months old. We wanted to say thank you to everyone who helped make Jacob's day at RIAT such a special one, and what better way to do it than by raising money for the RAF Benevolent Fund."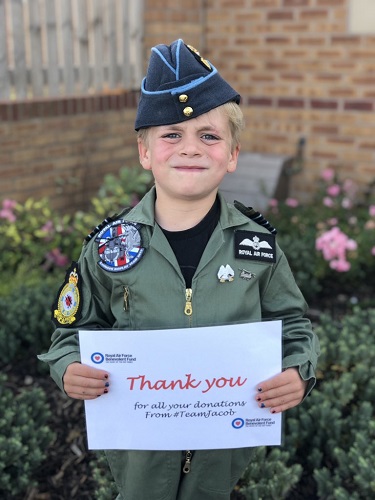 Andy previously served with the Army in Bosnia, Kosovo and Iraq. Andy's father – Jacob's grandfather – was an officer in the Merchant Navy while Andy's grandfather – Jacob's great grandfather – fought in the First World War with the Army.
Reaching 694m at its summit, Pen-y-Ghent is the smallest of the Yorkshire Three Peaks. The route is 6.6 miles in length and Andy expects the journey to take four hours to complete in total.
The pair have raised more than £5,000 so far, with Andy's colleagues at Yorkshire Ambulance Service donating more than £1,000.
Aaron Tillyer, Regional Fundraiser at the RAF Benevolent Fund, said: "It's truly heart-warming to see Andy and Jacob mirroring the generosity shown to them at RIAT by choosing to fundraise for the charity that exists to support the whole of the RAF Family.
"This is particularly important this year, as 2019 marks the RAF Benevolent Fund Fund's 100th anniversary. We've launched a three-year project to double the number of people we support annually to mark the occasion, but this wouldn't be possible without people like Andy and Jacob."
To sponsor Jacob and Andy, visit their JustGiving page.