Former Corporal Stuart Robinson recently represented the United Kingdom in the wheelchair rugby event at this year's Invictus Games. Having competed in the London Games in 2014 and again in Orlando last year, Stuart tells us how Toronto compared.
Overall, this year's Games were a massive success, not just for myself but for all of the competitors across the board. After being injured in Afghanistan in 2013, the Invictus Games and sport has played a massive part in my recovery and enhanced my opportunities to perform on some of the world's biggest stages.
As a city, Toronto was quite different in that the various sporting venues were really spread out so we had to travel quite a bit, which was obviously a concern for some of the competitors. This was quickly alleviated when we arrived and realised we had police escorts throughout our stay…an experience I could certainly get used to!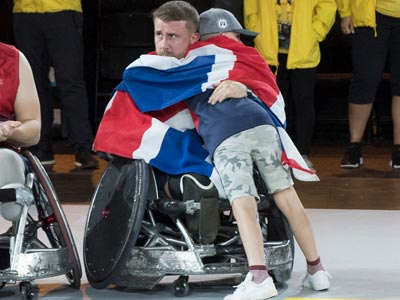 For me, London will always be the pinnacle of my sporting career. I hadn't built up any expectations as it was so close to my injury. I entered it with open eyes and ready to take whatever experiences it brought. To come away with a gold medal was the icing on the cake but the opportunity to perform in front of my family and to show my children I was still someone to look up to gave me the greatest satisfaction.
In Orlando I wanted to continue that success playing in the wheelchair rugby team and we were fortunate enough to come away with a bronze medal.
In Toronto, I was more focused and driven to win that gold again. The team was feeling confident and we were excited to show the public just how well-drilled we were.
An amazing opening win against last year's gold medallists, the US, boosted team spirits and put us on the right path for the remaining competitions. Another couple of wins set us up in the final against Denmark. I knew the Danes would be a good test and we would have to be at our best. We played well, a few unforced errors gave away some silly goals and in the end the Danes came away with the win. Considering some of the squad are relatively new to sport, to come away with a silver medal was really something to be proud of.
On a personal level I was initially disappointed. I can't always help wanting to win and be the best - it's in my makeup. Once the disappointment had subsided, I realised that in true Invictus spirit, getting the gold wasn't what mattered, it was about the chance to yet again go out and perform in front of my friends and family and to prove that life goes on for every single one of us.
Throughout all of this, a lot wouldn't have been possible without the support of my wife, children and of course, the RAF Benevolent Fund. Having them there from the start has enabled me to continue to rebuild my life and I am very grateful I got to share this with them. The Fund has supported me, not just through Invictus, but also in pursuing my dream of competing at the Paralympics in 2020.