You may have spotted a face you recognise if you're a fan of BBC2's MotherFatherSon –RAF Benevolent Fund Ambassador Mike Goody!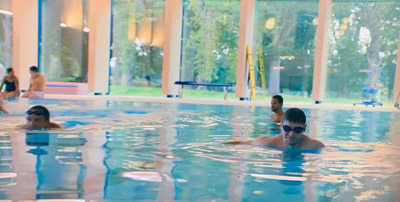 Mike was asked to play an injured soldier in the series, featuring Richard Gere and Helen McCrory, and appeared in a scene shot at Defence Medical Rehabilitation Centre - a place he knows well.
He says: "Having the unique skill of being an amputee I am often asked to play someone who has been injured. I really enjoy doing it as it gives me a platform, and it's definitely something I'd like to do more of."
Mike, who served with the RAF Regiment before he was injured in an IED blast in 2009, spent time at DMRC following his injury.
He added: "A lot of injured soldiers do the filming so it's actually quite good fun catching up guys I'd spent time with before. Unfortunately I didn't get to meet Richard Gere but I did chat to Helen, she's absolutely lovely."
Outside of his acting work, Mike is concentrating on training in the hope of joining the Para-Triathlon GB team.
MotherFatherSon airs on BBC2 on Wednesday nights at 9pm.