Last month, BAE Systems Military Air & Information held their traditional Wacky Races competition, raising £90 for the RAF Benevolent Fund. Instructor Pilot, Colin McGregor, tells us more about the enjoyable event.
"Designed by Instructor Pilot Stu Alexander, the latest Wacky Races competition was a tough test of the multi-role capabilities of the Typhoon pilots of RAF Lossiemouth. Participants paid £3 for their attempt to win the coveted Wacky Races trophy, with the proceeds going to the RAF Benevolent Fund.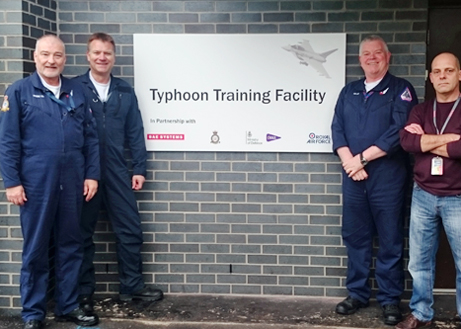 "The mission included a slalom at low level through 'Star Wars' valley, sinking a battleship group off the coast of Leuchars, a recce task at Aberdeen and shooting down multiple enemy fighters to free their wingman.
"The winning pilot was Nick Callinswood from 1(F) Squadron with a near perfect score; however, this was on his third attempt so he pretty much knew the course off by heart! The unfortunate winner of the lowest scorer's wooden spoon was 1(F) Squadron's QWI, James Fordham.
"Other highlights included a valiant attempt by 2 Squadron pilot Rich Parker's dad, who showed that he had lost none of his skills as a former Harrier pilot. The Station Commander, Gp Capt Godfrey, came in respectably mid table, while OC 2 Squadron was the best of the Squadron Commanders - because he was the only Squadron Commander who took part!"
The Royal Air Force Benevolent Fund's Zee Fletcher, Regional Fundraiser Scotland, Northern Ireland and Northern England, praised the participant's efforts:
"BAE Systems are one of the fund's longest running supporters and we are once again grateful to the Military Air & Information unit for their superb fundraising efforts. The Wacky Races competition is huge fun, and we're extremely grateful to all those who got involved to help raise money for the RAFBF."