The operation to keep the inhabitants of Sarajevo alive during civil war in the early 1990s remains the longest running airlift in the RAF's history. It mirrored one of the RAF's first humanitarian aid drops, Operation Manna, when food was dropped for the starving Dutch people.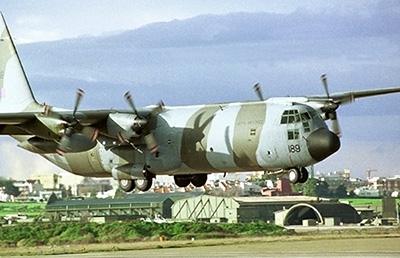 For almost four years Hercules C130s delivered supplies to those trapped by the fighting.
In recognition of the 70th anniversary of Op Manna, former Flight Commander Simon Footer explains his role in Sarajevo.
The relief effort to provide supplies to the besieged people in the former Yugoslavia was initiated by the UN.
Rail and road networks had been cut off or destroyed by the conflict and air drops were the only way to ensure the aid was delivered to those who needed it.
Simon flew several dozen missions into the war-torn country, off-loading essentials like food and medical provisions. Each drop consisted of between 15 to 20 tonnes of aid and each day crews would carry out three to four drops.
He said: "Bosnia was ripping itself apart due to a bitter civil war which was due to the breakdown of the former Yugoslavia and this centred on Sarajevo where all the factions were fighting it out.
"This was a place where there was a threat, a very significant threat. It was very dangerous. We had to have crews specially trained to go and face up to that danger. There was small arms fire and mortar shells firing at us and our fellow nations on a daily basis."
By the end of Operation Cheshire, as it was known, the RAF had dropped 26,577 tonnes of supplies from Zagreb in Croatia and then Ancona in Italy. The RAF had played a leading role in setting up the airlift and participated throughout until its end in July 1996, flying almost 2,000 sorties.
Simon concluded: "It was a very satisfying mission and a very important mission and one that goes down in history."
Having retired from the RAF, Simon now works as a regional director for the RAF Benevolent Fund. He said: "When the guys and girls go away on operations they know we are there to help if required and that will carry on in to the future."
Visit the Operation Manna homepage