At midnight on 23 July 1918, 2nd Lieutenant Jock Tullis of the Royal Flying Corps tunneled out of and escaped the prisoner of war camp of Holzminden, Germany. Now, 100 years on, in the Royal Air Force's centenary year, Jock's great-grandson James Dean and his father Paul, are recreating the Great Escape by running the very same route taken from Germany to Losser in the Netherlands.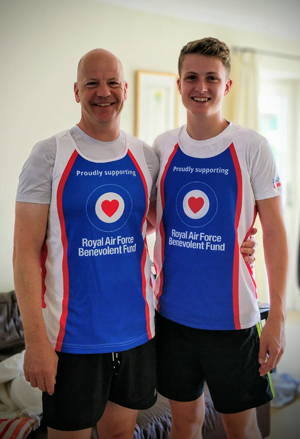 Devon-based software engineer Paul, 53, and Bristol University student James, 19, will set off on their incredible journey on the very same day that Jock made his escape, 23 July, and hope to raise significant funds for the RAF Benevolent Fund.
Jock's RAF commission, dated November 1918, makes him one of the first RAF Officers – earning him a letter from King George V upon his safe return. Also the proud recipient of the Military Cross, it's no wonder that Jock's brave endeavours have inspired his family to follow in his footsteps.
The Great Escape is one of the best-known stories of the Second World War, popularised by the 1963 film. What few people realise however is that the 1944 Great Escape was inspired by an even more audacious getaway, orchestrated more than 20 years earlier.
James explains: "The tunnel took the officers, including my great grandfather Jock, nine months to construct and its entrance was concealed under a staircase in the orderlies' quarters. 86 officers were on the list for the attempt, 29 passed through the tunnel and escaped before the 30th man got stuck and the escape attempt had to be stopped.
"As one of the 29 that made it out of the Holzminden prisoner of war camp, my great-granddad was one of the few who was successful in making it to the border with The Netherlands and then on to England.
"My dad and I will be covering the 250km my great-granddad undertook over eight days, following his route as closely as possible, using his memoirs as a reference. In turn, we will be writing a daily blog which we will publish alongside the respective daily memoir of his, both telling his story and our own as we relive his adventure."
In addition to completing their run as a commemoration of such a momentous occasion and much-loved family member, the father and son duo intend to raise more than £1,000 for the RAF Benevolent Fund.
James said: "Jock's employment in the Royal Flying Corps is not our only motivation for choosing this generous charity but their fantastic work supporting the RAF provides a stronger reason to fundraise for them.
"We know that the Fund undertakes some great work for the entire RAF Family, and was born out of a desire to help those wounded servicemen and families left bereaved by the First World War.
Today, it provides support for veterans of all conflicts, including the Second World War as well as currently serving personnel and their families. This is our way to give something back, and do something amazing at the same time!"
Despite being keen runners, neither James nor Paul have attempted a challenge of this magnitude before. To support them on their trip, visit www.justgiving.com/fundraising/rge-100yrs and follow @RGE100yrs.
The prisoner of war camp at Holzminden was the biggest camp for officers, holding approximately 550 individuals and 150 orderlies. Nicknamed 'Hellzminden', the camp commandant, Karl Niemeyer, had an appalling reputation for cruelty. Torture and summary execution were not unknown at the camp.