After realising they were meant to be, Sophia and Kevin Pike married on 14 February, and celebrate their 37th wedding anniversary today. Kevin tells the Norwich couple's love story...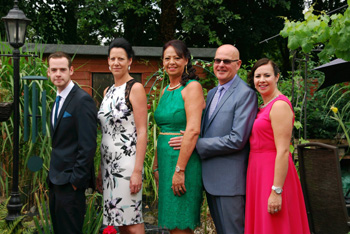 We first met at the NAAFI bop on leap year day, 29 February, 1980.
Earlier that year I, as a newly promoted Junior Technician, had been given the choice of being posted to RAF St Mawgan in Cornwall near Newquay – not really a dream posting for a single airman – or return to unit at RAF Marham to await a possible posting to Germany. I decided to return to unit so arrived in Norfolk in January.
On the evening of the 29th, a few of us had decided to begin the night at the rugby club sports and social bar where we imbibed in more than a few glasses of Dutch courage prior to visiting the NAAFI disco in the forlorn hope of getting a slow dance with a lovely young lady.
Being a tall lad I rarely encountered girls of my own stature, to my surprise from the safety of the dance floor edge I spied a girl head above the rest and a real beauty. With all the Dutch courage at its peak I made my move, and as they say the rest is history.
We arranged to meet that Saturday for a drink in King's Lynn and it was love. My posting to Germany soon came through and by 3 April I had to leave my love behind. Once at RAF Bruggen we corresponded several times a week using the 'Bluey' airmail letters. Some months I would travel back to the UK every weekend to see her. Missing and loving each other so much we decided to marry on 14 February, 1981.
Sophia was the daughter of an ex-serviceman, WO2 Graham Davis Royal Corp of Signals, and was born in Hong Kong. She lived as a service dependent in many other locations including Singapore, Malaya, Malta, Germany and Cyprus – a great CV for a service life!
I joined the RAF in April 1977 as a General Mechanic, Ground Support Equipment, and left in October 2005 as a Flight Sergeant.
Sophia and I are celebrating our 37 years together tonight with a meal out in Paphos as we enjoy our retirement on an extended holiday to Cyprus. We have four children and seven grandchildren.