Innovation and invention were key to the RAF's victory in the Battle of Britain during the Second World War. One such innovator was ace pilot Adolph Gysbert 'Sailor' Malan who changed the formation fighter pilots used when attacking the Luftwaffe.
He also created his own '10 rules of air fighting' which proved so popular they appeared on nearly every mess wall during the Battle of Britain.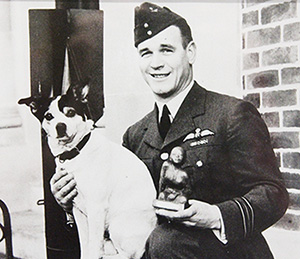 Malan's early career in the Navy earned him his Sailor nickname given to him when he joined the RAF in 1935. He joined 74 Squadron and was to spend his entire RAF career there, eventually becoming Officer Commanding when promoted to Wing Commander and later Group Captain.
By the beginning of the Battle of Britain in July 1940, Sailor had been involved in battles over Dunkirk, protecting retreating Allied forces. His bravery was rewarded with the Distinguished Flying Medal, presented by King George VI.
Flying mainly Spitfires, Sailor proved to be an ace pilot and by the end of the Battle of Britain had 27 confirmed victories and 26 damaged or shared to his name. His success was due in part to the new formation for flying which he pioneered.
Previously attacking aircraft had taken up a 'vic' formation to attack, Sailor introduced four planes in a line, known as the Finger Four, with a Tail End Charlie. This formation was later formally adopted by Fighter Command.
Sailor was awarded a Distinguished Service Order medal for his command of 74 Squadron and received honours from Belgium, Czechoslovakia and France. He retired in 1946 and returned to his native South Africa where he became a vocal apartheid opponent.
The RAF Benevolent Fund is proud to support former RAF personnel and their families both here in the UK and those living further afield. In 2019, we helped more than 71,700 current and former members of the RAF and their families..
Visit the Battle of Britain homepage