Crucial to the recovery of many of Sir Archibald McIndoe's Guinea Pigs was the ability to walk freely into the local community without fear. Many had suffered horrific burns and disfigurements but Sir Archibald was determined that these young airmen would not be hidden away from public gaze.
The small town of East Grinstead, in West Sussex, embraced Sir Archibald's vision and opened its doors to the airmen.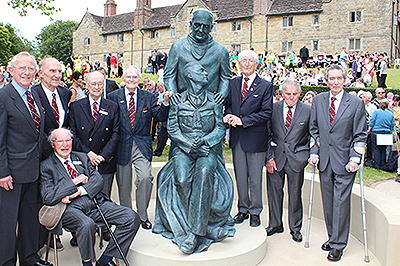 The manager and waitresses at the local restaurant, the Whitehall, took the Guinea Pigs under their wing, making it the unofficial hospital social club.
Seats were always reserved for the Guinea Pigs at the local cinema and the dance hall, the Rainbow, sent out weekly invitations.
The impact on the morale of these young men was enormous. To not feel different, judged or shunned in any way assisted their mental well-being enormously and helped them ease back into public life.
"These lads with the shapeless raw, red faces come down to the town each day. Their faces are not of this world during the long period of skin grafting. The first time you see them the blood goes out of your face, you curse yourself but you can't help it.But the good people of East Grinstead stop these chaps in the street and chat with them."
Readers' Digest, 1943
The town went above and beyond in its care and compassion for the Guinea Pigs. Local people opened their homes to the men and their families as they convalesced; the local newspaper carried regular stories about the hospital and its unique patients on its front pages.
Today many of the surviving Guinea Pigs still meet in East Grinstead for the Club's Annual General Meeting and they speak of their eternal gratitude to the community which took them to their hearts and helped them to heal in so many ways.
Visit The Guinea Pig Club homepage