During the coming week, the RAF Benevolent Fund will be celebrating the season of love with a series of blogs reflecting on the love in the RAF Family. In this first edition RAF veteran Derek Bradshaw shares his love for his wife, commuting by motorcycle to visit her, and the RAF!
Sandra and I have recently celebrated our 36th wedding anniversary (even though we have been together for 40 years) and we both feel the same about each other today as we did back in 1979 and would not change a single thing in our lives had we had the opportunity to do so today.
Apart from love; trust, communication, respect and treating each other as equal has kept us together throughout all of these years and has bonded us together through difficult times – we do not see this changing in the coming years!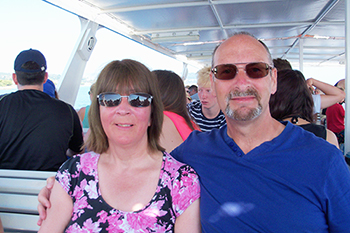 We met in August 1979, at RAF Binbrook. I joined the RAF in mid-1976 as a survival equipment fitter. Following initial and trade training, my first posting was to RAF Binbrook at the beginning of 1977. Sandra, nee Hall, was a clerk and her first posting was also RAF Binbrook during 1979.
I was posted to the RAFAT (Red Arrows) in team in 1982, initially at RAF Kemble, and my wife shortly after was posted to RAF Digby.
We were apart for nine months, and I had to commute by motorcycle every weekend from RAF Brize Norton – were I was billeted – in all weathers to see her. We eventually managed to obtain a co-located posting at RAF Scampton (where the RAFAT went to from RAF Kemble) and moved into our first married quarter, after we married in 1983.
We were posted in the mid-80s to RAF Henlow. My wife left the WRAF to start a family and we welcomed our beautiful daughter in 1987. My final posting was to RAF Hullavington before I left the RAF in 1988.
Immediately after leaving the RAF, I joined British Aerospace (BAe – now BAE Systems) at Brough in East Yorkshire, where I still work more than 30 years later. We settled in Barton upon Humber, where my wife originates from, into our first civilian home; our son was born there in 1989.
In the interim, in my spare time, I joined the Air Cadet Organisation and served for 12 years as both a Civilian Instructor and an RAFVR(T) Officer within an ATC Air Training Corps Squadron at Grimsby.
These days, I am an honorary member of the EE Lightning Preservation group carrying out work on the aircraft that I used to do in the RAF over 40 years ago!
By Derek Bradshaw