Codebreakers, codemakers, balloon barrage operators – the roles for women during the Second World War were as varied as they were vital.
Originally recruited into clerical, kitchen and driving jobs after its formation in June 1939, members of the Women's Auxiliary Air Force quickly expanded to fulfil a variety of essential posts.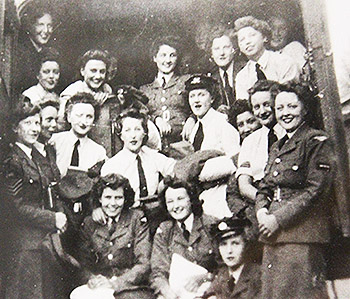 The force was created in response to the imminent threat of war with the aim of releasing men for frontline duties.
As the war progressed women diversified into other roles, working as telephonists, in telegraphy, mechanics, engineers, airplane fitters and in radar control rooms as plotters and reporters.
There were several roles which were not open to female recruits including becoming a pilot although women did fly military aircraft but only as part of the Air Transport Auxiliary. Women flew new, repaired and damaged aircraft between factories, airfields, maintenance units and scrap yards.
Many of the celebrated code-breakers working at the now-famous Bletchley Park were women, working towards breaking the Nazi code which became one of the turning points during the war.
At RAF Uxbridge, where 11 Group commanded all of aircraft in South East 85 per cent of staff working in the bunker were WAAF.
More than 180,000 women volunteered to serve their country and in late 1941 when women were legally able to be conscripted a further 33,000 were enlisted.
Women joined from both the UK and overseas and by 1942 women were recruited from the Middle East, including Egyptian, Palestinian, Jewish, Assyrian, Greek and Cypriot communities. Other Commonwealth countries, like Canada, Australia, New Zealand and South Africa all had women's sections in their air forces.
This was not the first time the Government called on the whole community to fight during war times. During the First World War, the Women's Royal Air Force was formed in 1918. WRAF members served in France and Germany in 1919 before the service was disbanded in 1920.
The WAAF became the Women's Royal Air Force in 1949 and in 1994 was fully integrated into the RAF. Today woman take on all roles within the air force, with the exception of the RAF Regiment.
Visit the Battle of Britain homepage