For troops like Corporal Ron Short, fighting on the Eastern Front, the declaration of peace on VJ Day on August 15 signalled real change.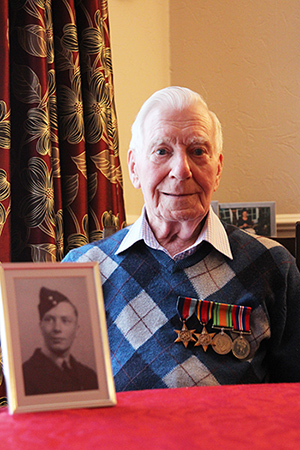 While VE Day three months earlier passed with barely a mention, the men who had been stationed in India for the previous two years celebrated the announcement they had all been waiting for.
Not only did the news bring relief that they would finally be returning home, it also meant a change in the way they operated.
Ron, now 91, explained: "The squadron was disbanded and we changed some aircraft into air jungle rescue by taking out all the armour and ammo boxes and converting them.
"If there was a report of an aircraft missing they would go out and search and if they found any trace they would drop supply packs or survival boxes."
From 1944 Ron worked as ground crew preparing Beaufighter aircraft for operations against the Japanese forces in Burma, often battling against monsoon weather conditions. It was these conditions which could lead to aircraft ditching in the dense vegetation.
The Air Sea Rescue Flight at Pegu in Burma also modified a Lancaster bomber for a more humanitarian mission.
Ron said: "They had a Lancaster with a lifeboat slung underneath it. They used to go out to sea searching for any wrecks and if they found any traces they would drop the lifeboat into the sea."
Ron says that although the switch from war-related service to a more philanthropic cause was welcome, all the men wanted to do was return home.
He said: "In August 1946, we came home from Rangoon on the Reina del Pacifico troop ship, calling at Columbo and Bombay and we were a bit annoyed at Bombay because while we were there they re-painted the outside of the ship because it was the last trip as a troop ship and one of the crew told us that they did not go into their home port with rust on the hull! I think we were at Bombay for three or four days…"
The three-week long sailing was frustratingly slow for Ron and his comrades who had been away from home for so long. Ron returned to the UK to meet up with his three brothers who had also served their country with the RAF.
If you would like to support veterans like Ron, please make a donation today.