Seventy-five years ago this summer, a handful of burned airmen formed The Guinea Pig Club and just last week, His Royal Highness the Duke of Edinburgh unveiled a memorial to them at the National Arboretum. Today, we remember and celebrate the service of the Guinea Pigs and their surgeon, Sir Archibald McIndoe.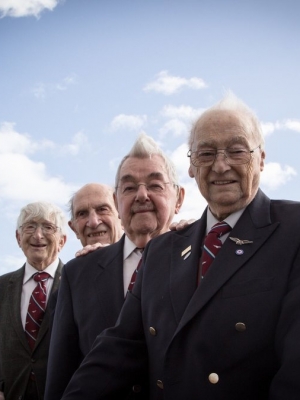 As the casualties of the Second World War came flooding in, it became clear to plastic surgeon Dr Archibald McIndoe – later Sir Archibald - that the volume and severity of injuries would be unparalleled and unlike anything seen before. Most of his patients suffered life-changing burns when aircraft fuel tanks ignited, engulfing the crew in flames.
McIndoe undertook the long process of physical restoration and mental rehabilitation of his patients, who on 20 July 1941 formed a social club and called themselves The Guinea Pig Club, in honour of their role in McIndoe's experimental treatments and with his blessings.
Guinea Pig Mac Mathieson, who underwent ten operations over the course of almost two years after his Lancaster's windscreen suddenly exploded, remembers McIndoe: "He did change my life, he made life worth living. It's a wonderful group of men, helping one another. The spirit amongst us is still great today."
In the 75 years following, the Guinea Pigs have continued to support each other, providing camaraderie, encouragement, and a healthy dose of banter.
Alan 'Fingers' Morgan, who lost eight fingers to frostbite when his Lancaster was hit by flak, recalls: "They christened me 'Fingers Morgan' because I had none! There was another [Guinea Pig] that lost all of his toes, a Czech colonel he was. I said, 'I'll play the piano and you do tap dancing.'"
The camaraderie of the Guinea Pigs is something held dear by Jan Black, a Pole who served in the RAF and settled in Britain after the war.
Jan Black, who was injured when the engine of the Wellington Bomber he was flying in seized up and crash-landed says: "Our British colleagues treated us Poles like brothers. We faced the same dangers, we were committed to the same cause. The friendships I made with the Guinea Pigs will live with me for the rest of my days."
The RAF Benevolent Fund, which has helped many of the Guinea Pigs over the years, is proud to continue to support them today and to help preserve their legacy for future generations.
Founding Guinea Pig Club member Des O'Connell, who was badly burned when the Whitley bomber he was flying in crashed in Ireland, recalls: "The club gave me many things, a standard of friendship, confidants; we really opened our hearts to each other.
"The Benevolent Fund is always there to help. To always have that makes life much easier somehow. It's jolly nice to be made a fuss of."
And Guinea Pig Doug Vince, who suffered severe burns to his face and hand when his Stirling Bomber was shot down by a German aircraft, says: "I hope they carry on the memories when we're all gone. I'm sure the RAF Benevolent Fund will do that for us so The Guinea Pig Club is never forgotten."
Visit The Guinea Pig Club homepage