To mark HM The Queen's 90th birthday, over 50 children at RAF Lossiemouth attended a special party in her honour.
Kicking off the summer holidays Airplay Lossiemouth organised the event and children took part in a number of traditional games from the sack race to pass the parcel. Getting into the full spirit Tiffany Tenny, a Youth Worker at Airplay and Ben Clubs, baked and designed a special birthday cake which was cut by the guest of honour, Ben Elephant.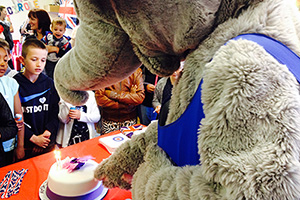 The RAF Benevolent Fund put together a party pack for its Airplay youth groups containing goodies including paper crowns, bunting and games to help celebrations go with a swing.
Tiffany, the Station Youth Worker explained: "We thought the Patrons Lunch was a great way to start the school holidays and get the children involved in celebrating The Queens birthday. We have a continually expanding Ben Club and Airplay and the children really enjoyed playing some traditional games.
"I designed the birthday cake and it was lovely to hear the children singing happy birthday to the Queen! Airplay will continue throughout the summer months and a residential course is also planned so there is lots to keep the children entertained over the holidays and for once it only rained a little bit but it certainly didn't affect the party spirit!"
Airplay parties to celebrate The Queen's birthday will be taking place over the summer across a number of RAF Stations.
If you would like to find out more about Airplay and what it means for youngsters on station, please visit www.rafbf.org/airplay.