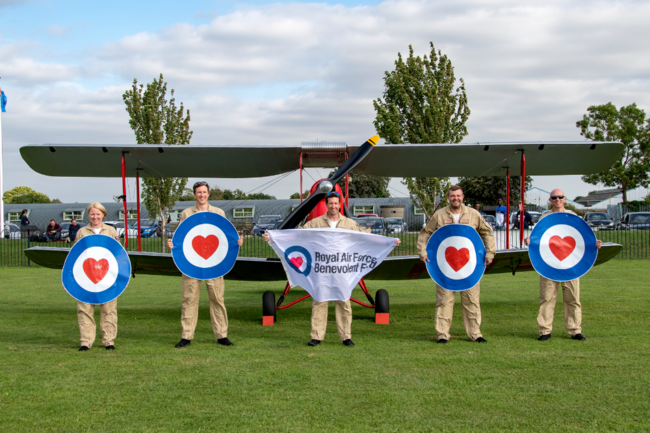 The Blades' Hardest Day Challenge pays tribute to The Few
The Blades, an aerobatic display team of former Red Arrows pilots, recently took part in the RAF Benevolent Fund's Hardest Day Challenge. The challenge, which has been sponsored by aerospace and security company Lockheed Martin, commemorates the sacrifice and courage of those who risked their lives during the Battle of Britain while raising funds to support RAF veterans and personnel alike.
For the challenge, each Blades pilot took to the air in a Tiger Moth, a 1930s aircraft that many Second World War pilots trained in. The Blades challenged themselves to launch flour bombs at 80cm targets placed on the grass at Sywell Aerodrome, aiming for the centre-heart of the RAF Benevolent Fund's roundel.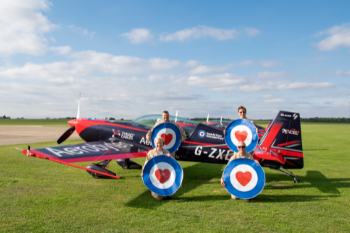 You can sponsor the Blades through their fundraising page: justgiving.com/bladeshdc21.
Mike Ling said: "It was great fun to take on the team in this Hardest Day Challenge - it was a hard fought competition. We're not announcing who won until Friday, but this challenge was about more than just bragging rights – it's about raising awareness of and funds for our charity partner, the RAF Benevolent Fund. The Fund is a cause incredibly close to the Blades' hearts, so it was a pleasure to take part in the Hardest Day Challenge, paying tribute to those brave few who risked their lives all those years ago."
The Hardest Day was a Second World War air battle fought on the 18 August 1940 during the Battle of Britain between the Luftwaffe and the Royal Air Force. On that day, the Luftwaffe made an all-out effort to destroy RAF Fighter Command.
The RAF Benevolent Fund is inviting the public to follow in the footsteps of The Few by taking on the Hardest Day Challenge, which runs to 31 October. Whether you decide on a sponsored walk or run or brave a sponsored abseil or rock climb, your efforts will help the RAF Benevolent Fund continue supporting the RAF Family. Registration costs just £25, which would fund two weeks of Airplay, the Fund's youth support programme, for the child of a serving member of the Royal Air Force.
To find out more about the Hardest Day Challenge and to sign up, go to rafbf.enthuse.com/cf/hardest-day-challenge. To learn more about the Battle of Britain, visit rafbf.org/battle-of-britain.