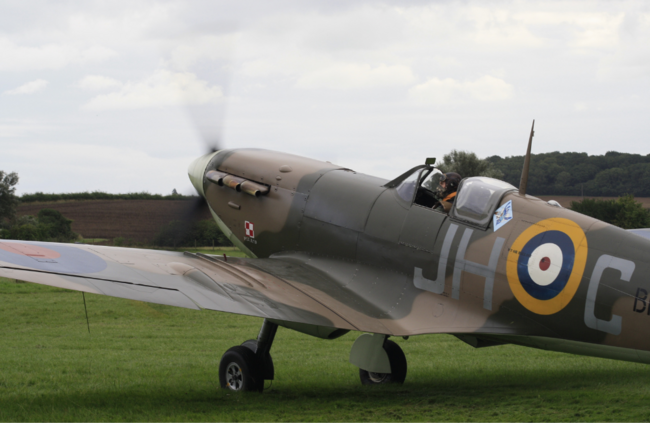 Competition winners for Spitfire flight chosen by RAF veteran
Andy Andrews, a Second World War veteran, has chosen the winners of the Daily Express' competition for a flight in a Spitfire.
The newspaper teamed up with flyaspitfire.com, based at the Biggin Hill Heritage Hangar, to offer two lucky winners this exciting prize worth £2,975 a flight. Entrants were also encouraged to donate to the RAF Benevolent Fund, raising over £1,300 to support members of the RAF Family.
On choosing the winners, Andy said "I'd say it was even more nerve-racking than jumping out of a downed Halifax bomber. My knees were certainly trembling."
"There is nothing quite like the noise of a Second World War aircraft and the smell of oil takes me back. It was wonderful to be among friends. If I could, I'd jump in and fly off once more in one of these magnificent aircraft."
Two winners were chosen from the entrants; Gary Burnett, of Cheadle Hulme, Cheshire, and Stella Snow from March, Cambridgeshire. Each will now reach for the sky in an awe-inspiring experience only a handful have had.
Gary, 66, said: "When I received the email I thought it was a wind-up and I very nearly deleted it! Now I haven't stopped smiling."
Robin Brooks, of the Biggin heritage hangar, said: "It is our pleasure to give this lucky pair the opportunity to fly in a Spitfire and our pleasure to send much-needed revenue to the Fund."
Read more on the Daily Express website.