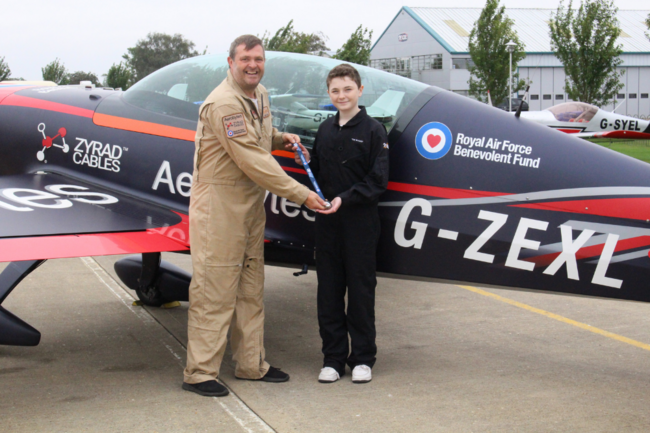 Derby teenager takes flight with ex-Red Arrows pilots to celebrate fundraising win
Last week a teenager from Derby was treated to a special flight with the Blades Aerobatic Team, a team of former Red Arrows pilots. Thirteen-year-old Archie Hadfield won the experience after taking part in the 80 Miles in 80 Days fundraising challenge which raised money for the RAF Benevolent Fund and the RAF Air Cadets General Purposes Fund.
Archie, who is a cadet with 126 City of Derby Sqn, successfully raised more than £1,100 for the two organisations, making him the challenge's top fundraiser. In total, the initiative raised nearly £60,000 for the two organisations to date.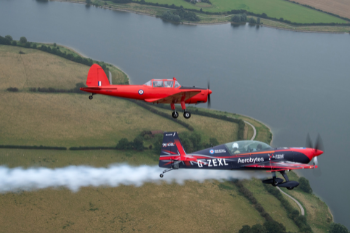 Archie said: "I really enjoyed the flight and have had such a good day with the team, learning from them and hearing their stories from when they were cadets. Im really pleased to be able to raise money for the RAF Benevolent Fund and want to raise as mu'ch awareness as possible for all they do. I had the most amazing experience with south and east wing road marching team who supported me though my 80 Miles in 80 Days challenge. In the beginning I really didn't like road marching, but now I love it and can't wait for the next one to come along."
The 80 Miles in 80 Days Challenge formed part of the celebrations marking the 80th anniversary of the RAF Air Cadets. Set up in 1941, the Combined Cadet Force and Air Training Corps are collectively known as the RAF Air Cadets. The groups provide youngsters aged 13 and above with opportunities for adventure, training and skills including learning to fly a glider.
Andy Evans, Blade 1 and former cadet, said: "I had a ball in the cadets, so to be able to fly Archie today and help him on his journey was really special. Our charity partners the RAF Benevolent Fund have a close place in my heart – they do amazing things for amazing people. So to know that Archie's fundraising has supported them, and the RAF Family, makes it even more fantastic. Well done Archie and all the very best for the future."
Mike Ling, Blade 3 and former RAF Air Cadet, added: "We're very proud to partner with the RAF Benevolent Fund and this year we've been taking on their 80 Miles in 80 Days Challenge, raising much needed funds for the RAF Benevolent Fund and the cadets, who celebrate their 80th anniversary. We had the pleasure of flying 13-year-old Archie, who flew his first flight today in one of our Extras, and I got to fly in formation with him in the Chipmunk. As a former air cadet myself, it was a real privilege to see the smile on his face as he got airborne for the first time. I knew how special it was for me when I was 13 so it was great to see him enjoying it today."
The air cadets and the RAF Benevolent Fund have a long history of working together. As a charity which supports the RAF Family, the Fund has always been able to rely on support from the cadets in this mission with everything from fundraising efforts to supporting veterans and serving personnel at Fund events.
To mark the organisation's 80th anniversary, the RAF Benevolent Fund is proud to offer an enhanced package of welfare support for the RAF Air Cadets, including members of the Combined Cadet Force. Support includes emotional wellbeing, counselling and bereavement support, as well as financial support if a member is killed, on or off duty. This also extends to staff cadets and uniformed volunteers.