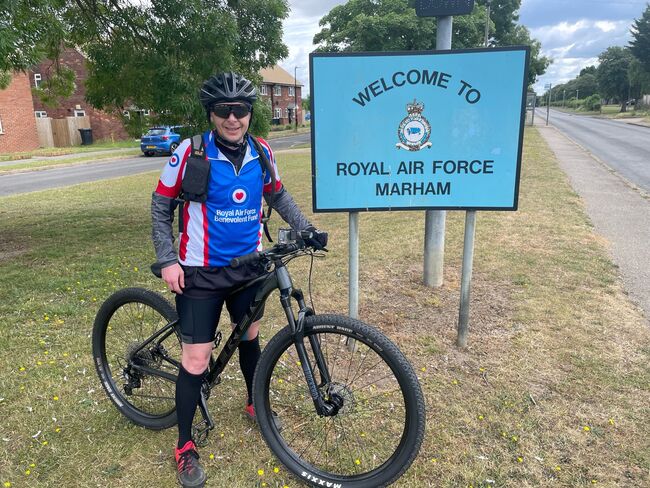 Fundraiser overcomes life-changing injury to cycle 100 miles for RAF Benevolent Fund
Peter Kellythorn, of St. Neots, Cambridgeshire, dreamed of joining the RAF in his youth and was a CWO in the 2500 Squadron cadets.
Peter said he had grown up with stories from his grandparents and great grandparents who had served. But his dreams of joining were cut short while playing football with the ATC at RAF Cottesmore in 2002. He collided with a goalkeeper, which caused a fracture in his spine and bruised his kidney. He played on, but after a while it was clear something was wrong. Peter attributed the event to be the trigger for him developing axial spondyloarthritis (AS). This condition led to him having both hips replaced and ultimately meant that he could not join the RAF.
Peter, 41, has so far raised more than £550 for the RAF Benevolent Fund after completing a Pathfinder cycle ride of around 100 miles in July.
He said: "I have had both of my hips replaced due to issues with AS, after surgery I started cycling as a means to aide recovery and keep fit. Then I started thinking about setting myself goals, I took part in RAF Benevolent Fund and RAF museum events, but I wanted to do something more. I decided to raise funds for the RAF Benevolent Fund and the National Axial Spondyloarthritis Society (NASS). Living in St. Neots there are several World War Two airfields near me. As my granddad's cousin was a pathfinder pilot, I decided a good challenge would be to attempt to cycle to all the Pathfinder airfields. To pay respect to all those involved with the Pathfinder force."
He added: "AS changed my life for the worse, it took away the career I wanted, delayed my going to university. However, I kept pushing, I got a degree in aerospace engineering, astronautics and space technology. I now work for Lockheed Martin and I have started learning to fly. It's not way I wanted it but don't give up."
You can sponsor Peter on JustGiving.