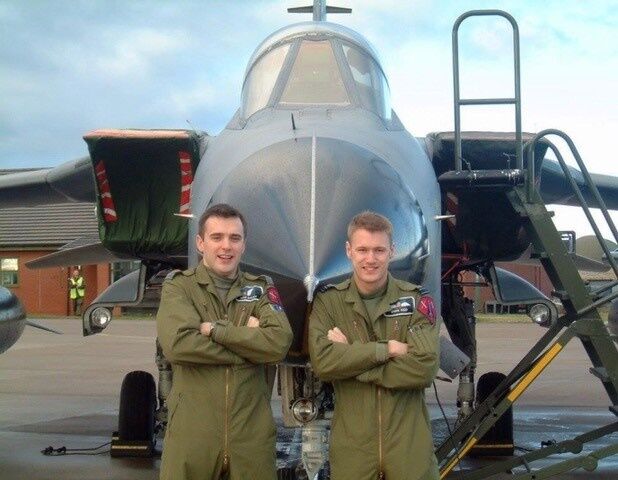 London Marathon runners raise £6700 in support of the Fund
Congratulations to the 10 Fund supporters who were among the 80,000 London Marathon runners who pounded the streets of the capital on Sunday. The group raised over £6700 between them to help support serving RAF personnel, veterans, and their partners and families.
Former RAF pilot Chris Kidd undertook the challenge in tribute to his friend, Sam Bailey, who died in a Tornado crash over the Moray Firth in 2012. Chris joined the Royal Air Force in 1988, serving as a Tornado Gr4 and Hawk T1 pilot and instructor. He is also a member of The April Fools' Club, a group of 100 people from across business and the RAF who have supported the Fund for over 13 years.
Chris said: "When Sam died, his wife and daughter were fortunate enough to not need support from the RAF Benevolent Fund. Many families are not so lucky, so I feel it is really important for me to give back to RAF charities where I can."
Fellow The April Fools' Club member Nicky Wright also completed the London Marathon on Sunday. Nicky had completed the London Marathon once before in 2018 after losing her brother to prostate cancer. She had promised to complete his London Classic Challenge – the London Marathon, Prudential RideLondon and Swim Serpentine – taking on the marathon just three days after his funeral to raise £3,000 for charity. She returned this year to complete her own London Classics Challenge, having completed the cycle in 2019 and the swim in September 2021.
Also taking part in Sunday's Marathon in the capital was Sergeant Rich Bond, a weapons system operator based at RAF Cranwell; Squadron Leader Alfie Hall, a full-time Reserve based at RAF High Wycombe; Flight Lieutenant Rich Graves, a personnel training officer based at RAF Benson; Ben Palmer, an RAF veteran from Bedfordshire; and Flight Lieutenant Darren Luke, an air surveillance trainer based at RAF Benson. Jon Bartles, Christopher Fedden and Toga Loco completed the virtual London Marathon on the same day.