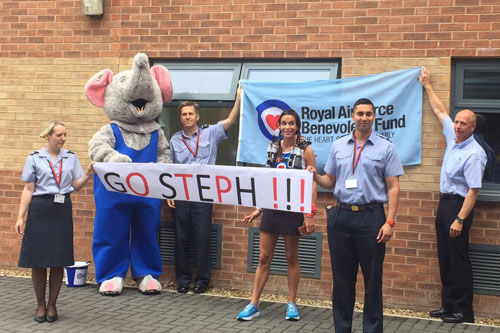 An Oscarordinary Challenge
Sgt Steph Evans of 24 Squadron RAF Brize Norton is taking on a series of challenges like no other: a year of epic fundraising events, which she's calling 'An Oscarordinary Challenge' after her young son, Oscar, who has Goldenhar syndrome, a facial cranium condition.
She aims to raise £20,000 to benefit our charity and others with 12 months of walks, spinathons, decathlons and runs – including Marathon des Sables in the Sahara Desert. She also wants to raise awareness of Oscar's condition.
Steph's Oscarordinary year began earlier this summer, when the mum-of-two completed her first feat, running the 35 miles between RAF Brize Norton and RAF Benson, where she served as a Merlin Crewman.
Since then, she's done a run at the Royal International Air Tattoo and taken on the Cotswold 24 in Cirencester Park, where participants have to complete as many 9km laps as possible in 24 hours.
Steph explains: "The first challenge was tough! But thinking of the people the RAF Benevolent Fund helps was hugely motivating.
When I served in Afghanistan I saw first hand the support the RAF Benevolent Fund offered. I know they'll always be there for me and for Oscar if we ever needed them. Even if the challenges become too much, I'll keep going - I have a purpose, a drive, a reason."
Forthcoming challenges include running the Thames Path, completing a Tough Mudder event, hill walking and the Pilgrim Challenge – a two-day ultra marathon in the North Downs. But she thinks the Marathon Des Sables will be the real test. She says: "Strangely though, it's not the run itself that terrifies me, it's the camel spiders, scorpions and snakes!"
The 31-year-old Loadmaster from Fairford, Gloucestershire has served for 12 years but plans to leave the RAF next year and is looking to set up a charity to support people with Goldenhar syndrome and their families, and fund research into the condition.