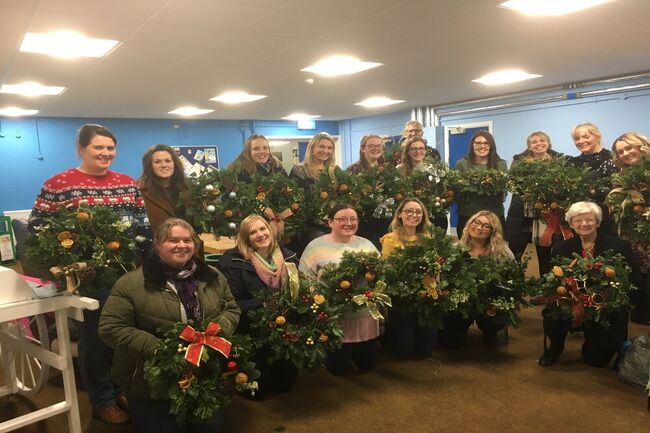 Christmas wreath workshops bring cheer to RAF Cosford
Recently staff at RAF Cosford delivered three Christmas wreath and table decoration workshops at The Bridge, a facility whose £200,000 refurbishment was funded by the RAF Benevolent Fund.
Having opened earlier this year after a huge refurbishment supported by the Fund's significant grant, The Bridge project saw a disused six-bedroom flat in the Community Centre turned into multi-purpose training rooms. These rooms allowed staff at RAF Cosford to host festive workshops for 60 serving personnel and spouses.
Jean Hartshorne, Community Development Officer at RAF Cosford, said: "It was real pleasure to organise and deliver these Christmas workshops, and I'm delighted that so many people from across the RAF Community were able to take part in such a fun filled activity. It's really important for members of the RAF Family to meet each other and learn a new skill, and I'm thrilled that we have such an incredible facility in The Bridge, which was so generously supported by the RAF Benevolent Fund, where we can bring people together."
The Bridge has also hosted several other courses for RAF personnel, spouses and dependants including a mosaic workshop and safeguarding training. Courses for next year include furniture upcycling and glass fusing workshops.
The RAF Benevolent Fund has supported RAF Cosford by awarding the station grants totalling with more than £517,000 since 2019 alone. Grants have provided financial, emotional, and practical assistance to serving RAF personnel and their dependants. This includes help with financial difficulty, free memberships for Headspace, Airplay youth clubs, and more.
For information on courses organised by Community Support Contact Jean Hartshorne, Community Development Officer at jean.hartshorne454@mod.co.uk.