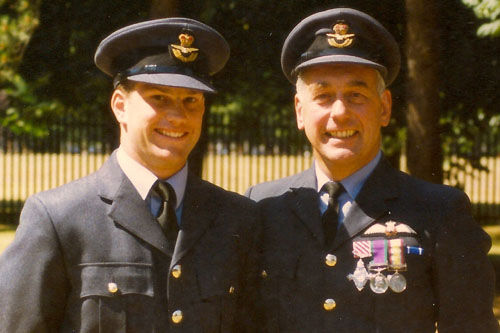 "I will remember my grandfather and all my comrades who lost their lives"
Today, Remembrance Sunday, Squadron Leader Mike Waring will join thousands of others as they line the streets of London to pay their respects at the Cenotaph. In this guest blog he shares why Remembrance is so important for him and his family.
Remembrance Sunday is a significant time for so many people whether they be serving, retired or, like so many, have relatives who have served their country. As a fourth generation RAF pilot my family have served King and Queen for 60 of the RAF's 100 years. My grandfather, a Stirling pilot, paid the ultimate sacrifice along with 55,572 Bomber Command colleagues.
Remembrance Sunday for me is about giving thanks to all of those who have served their country but primarily those who have been injured or killed while doing so.
The real essence of the event for me is those who I 'actively' remember during that powerful period between the Last Post and the Reveille; those are always my grandad and the regrettably numerous friends and colleagues who have lost their lives through aircraft accidents or enemy action.
In addition to remembering my grandfather, as an Officer Commanding of a former Lancaster Squadron, I remember all of the brave Bomber Command aircrew who took to the air to take offensive action against the enemy of the day.
This year the Royal Air Force celebrated its 100th year and I'm hugely proud of the small part my family has played in it. Next year the RAF Benevolent Fund will also mark its Centenary; they were there to help my grandmother raise my dad after my grandfather was KIA. They have provided my family with support for my mentally disabled daughter and they provide support for countless others.
Next year we need to recognise and celebrate the contribution that the RAF Benevolent Fund has made to the Royal Air Force's fantastic history.
By Mike Waring