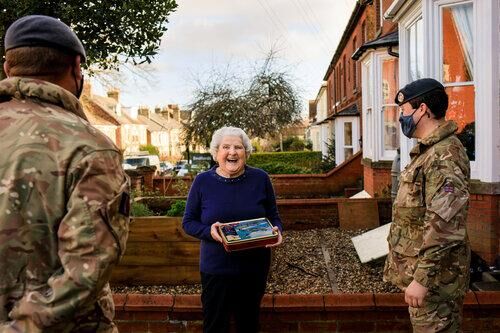 Operation Shortbread delivers some festive cheer to vulnerable RAF Family members
RAF personnel from Honington, Digby, Cranwell and Coningsby have joined forces with the RAF Benevolent Fund to hand out some Christmas cheer to members of the RAF Family.
The volunteers delivered special hampers and tins of Spitfire shortbread to RAF veterans and their partners living in the area. The deliveries are part of a scheme to reach more than 650 households of the most vulnerable and is the culmination of a year of support from the Fund. Since the pandemic began, the Fund has carried out more than 3,000 Check and Chat Calls, and doubled the number of new Telephone Friendship Groups it operates to help reduce the sense of isolation during Covid-19 lockdown restrictions.
Susan Grogan, Community Engagement Worker for Norfolk, said: "Christmas is a particularly difficult time for some people, and the ongoing Covid-19 pandemic has meant some of our beneficiaries have not seen family or friends for months. This small gesture reminds them that they are not forgotten and are part of a bigger RAF Family. Some of my beneficiaries have been moved to tears by the gesture."
Ninety-eight-year-old WAAF veteran Louisa Hovell, from Bury St Edmunds, has been shielding for the majority of this year, like so many others of her generation. She receives a weekly Check and Chat call from the RAF Benevolent Fund, a new service introduced in response to the global pandemic, as well as financial support to top-up her pension. Mrs Hovell, who lives alone since her husband Len died in 1982, is a former barrage balloon operator who served during the Second World War and was one of the recipients of the tins.
She said: "It was a lovely surprise. What a thoughtful gift – I am saving them for Christmas. The Fund do a marvellous job and their help means I can put my heating on and I don't have to worry about it."
The RAF Benevolent Fund has launched a range of welfare initiatives to support personnel and their families through the Covid-19 pandemic. It introduced a 24-hour emotional support helpline, created an online mental wellbeing zone, and began offering Headspace memberships to RAF partners and spouses. The Fund has also offered a £2,500 grant to each RAF station to provide activity and wellbeing packs for RAF children and launched Airplay Connect, an online version of its youth support service.