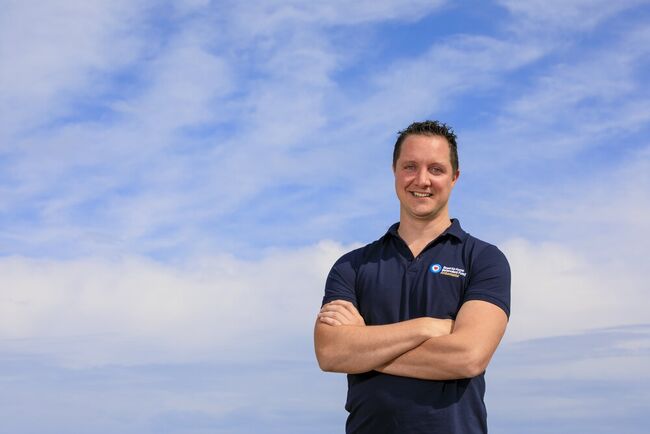 Inspiring the next generation of air cadets
To mark the 80th anniversary of the RAF Air Cadets, Fund Ambassador Mike Goody he tells us what it's like to inspire the next generation.
I didn't join the cadets when I was at school. All my free time outside of school was fitness and sport. I didn't have time for cadets, swimming was my life.
When I was medically discharged from the RAF, following my injury, I took up sport as part of my rehabilitation. Training took up a lot of my time but also left me with some free time and I decided I wanted to use that to give something back.
I got involved with my local air cadets squadron, 461Sqn in Chichester, after giving a talk about taking part in the Invictus Games. I wanted to give something back and use my experience to help cadets. I absolutely loved it. The cadets were absolutely amazing.
After having an in-depth discussion with the Wing Commander about what is on offer to the cadets and what they get up to, I decided to take the next step and became a civilian instructor. I see it as a small reflection of my former military life and volunteering helps to keep me even more connected to the RAF Family. Three years later, in January, I became an Acting Pilot Officer.
I really enjoy my time with the cadets and now I can pass on some of my military skills to support the cadets, for example shooting and field craft. Becoming a uniformed member of staff too will also enable me to support the squadron commander and take on some of the leadership responsibilities to support the squadron.
It gives me a great sense of pride, having that blue uniform on, and on a personal level it's amazing to be back as part of the RAF Family.
This past year has been a challenge, as the pandemic has meant we have had to do things very differently. Everything has had to be done virtually. A lot of the cadets have spent most of the day online already with school, so running virtual parade nights teaching more things has been challenging. So we've tried to make the learning more fun and interactive for the cadets and new recruits we have to give them a space where they can have fun whilst learning but also know they are supported if they need it.
By Mike Goody
Former SAC Mike Goody, served with the RAF Regiment, before he was injured in an IED blast in Afghanistan in 2009. Since then, the Fund has been by his side, providing support during his rehabilitation and more recently as he came to terms with the death of his father.