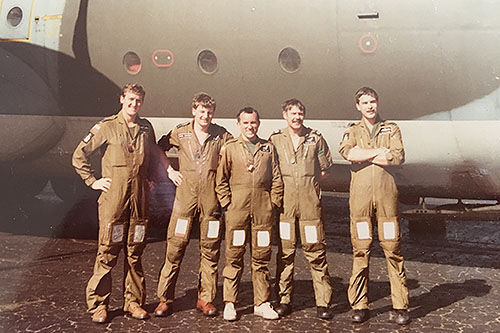 My centenary moment – Taking part in Operation BUSHEL
As we continue our series celebrating the service of RAF Benevolent Fund staff, Regional Director Paul Hewson recalls his 'Centenary Moment'. As a navigator flying on Hercules C-130s, Paul's career spanned 25 years, but he only took part in one humanitarian mission. In this blog, to mark 100 years of the RAF, he describes his role.
Barely two years into my first tour on 47 Squadron as a Hercules navigator, I was fortunate enough to be sent with my crew colleagues to Addis Ababa in Ethiopia, in March 1985.
This four-week detachment was part of Operation BUSHEL and followed huge media interest into the appalling famine which was raging across Ethiopia at that time. I well remember the reports by Michael Buerk on the BBC and the Band Aid single released over Christmas 1984, both of which highlighted the dreadful plight of the starving population.
As a member of the RAF it was a huge privilege to be sent out there to help deliver western aid of grain either by air dropping sacks to extremely remote areas, or air landing such aid on isolated dirt strips in the mountains. This humanitarian operation was huge and involved a number of air forces, all working as one to stem the ravages of the famine.
The grain was loaded into the hold of the Hercules aircraft, on four pallets either in the capital, Addis Ababa or at Assab on the Red Sea coast where much of the western aid had been delivered.
We flew sorties of around one-hour duration, four times a day to the designated drop zones or landing zones within Ethiopia. These were all in the Rift Valley region of Ethiopia and consequently were usually at an elevation of around 10,000 feet. This presented challenges for the crews, as aircraft perform differently as such altitude and it was necessary to fly unpressurised ready for the air drop of grain.
Drop zones were surrounded by thousands of starving people clearly visible from the air, who were held back whilst we made four passes over the drop zone, each time one of pallets was pushed out of the aircraft by army dispatchers from a height of 15 feet above the ground; this was extremely low but was proven to be the optimum height to avoid the sacks of grain splitting upon impact with the ground.
On one 'down day' I flew in a Polish Hip helicopter to Makele drop zone to see the operation myself. This was also an opportunity to meet the starving people who were so obviously very grateful for the western aid being delivered to them.
Upon reflection, this was definitely a major highlight of my time in the RAF; not only were we flying the aircraft in a challenging environment, providing an opportunity to see the beautiful, spectacular country of Ethiopia from low level flight but we most importantly were involved in a humanitarian operation which undoubtedly saved many lives. I count myself as extremely lucky to have been part of this effort and was fortunate enough to complete a second detachment in September 1985.