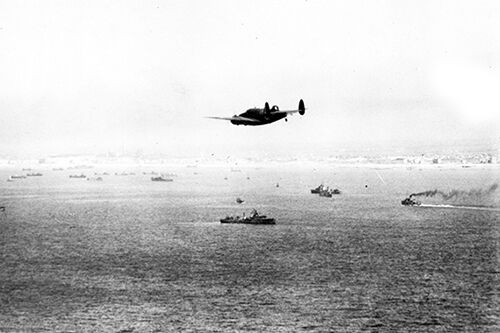 The RAF's vital role in the Dunkirk evacuation
What is the Dunkirk evacuation?
On 26 May 1940, Prime Minister Winston Churchill ordered the start of Operation Dynamo (also named the Dunkirk Evacuation) – the evacuation of more than 330,000 Allied troops from the beaches of Dunkirk during the Second World War. RAF Fighter Command began to operate patrols from Boulogne to Dunkirk and the operations were to continue for the next nine days during the Dunkirk evacuation. Here we reflect on the events that unfolded on the shores of France.
At the start of May 1940, the British Expeditionary Force was under threat from heavily armed German troops; the Luftwaffe now dominated the French skies and Calais was about to fall. 
Hundreds of thousands of Allied troops had been forced to retreat back to the shores of Dunkirk where the town and harbour had been reduced to rubble. As the fighting continued and the Luftwaffe launched fatal air strikes whenever the weather allowed, the soldiers stranded on Dunkirk had little hope of surviving.
Role of the RAF in the Dunkirk Evacuation
At 6.57pm on 26 May, Operation Dynamo was ordered to be set in motion. The British government had decided to seize an opportunity to start a mass evacuation of their troops. 
While over 800 small boats volunteered to help bring the troops home, the RAF had the duty of protecting the shores and providing shelter over the evacuation.
Many of the pilots sent to fight the Luftwaffe were young and inexperienced compared to the battle-hardened veteran enemy. While these brave young men fought heroically to halt enemy fire, many were overcome by the sheer power and domination of the German aircraft. 
Dunkirk Evacuation facts
As the days went by, the RAF were pushed further and further west, forcing squadrons to relocate their bases as French airfields continued to be seized by advancing German troops.
During the attack, the Fairey Battle and Bristol Blenheim bombers were decimated and the Hurricane fighter pilots were simply outnumbered.
Over the course of the operation, the RAF flew 2,739 fighter sorties, 651 bombing raids and 171 reconnaissance flights.
Despite heavy losses on the ground and in the air, the operation was deemed a success and hundreds of thousands of men were rescued and brought back to the UK.
The returning troops were vital if Britain were to resist an invasion. As Prime Minister Winston Churchill told the House of Commons: "The Battle of France is over. I expect the Battle of Britain is about to begin..."
The evacuation of Dunkirk is something as a nation we will never forget nor will we ever forget the courage and bravery of all those who risked their lives.