"What I learnt as an air cadet set me on path that I'm proud of"
As we continue to celebrate the achievements of former air cadets, we spoke with SAC Jack Hawkins about how the organisation helped him to create life-long memories as part of one of the RAF's most highly regarded display teams.
There's a strong military history within my family, both the Army and the Royal Navy, so I had always had an interest in the service.  So as a 15-year-old, despite having previously toyed with the idea of joining the Army Cadets, I signed up to 124 Hereford City Squadron ATC.
One of my friends was already part of the squadron so I went along with him that first evening with an open mind. I don't remember feeling nervous and I was right not to be – by the end of the night, I'd had great fun with such a terrific mix of friendly people that I kept going.
During my early days as an air cadet I learnt an array of skills that have stuck and served me well – from first aid training to drill practice and kit preparation. Being in the air cadets also ignited my passion for adventurous training; the opportunities to undertake activities such as camping, kayaking and climbing were endless.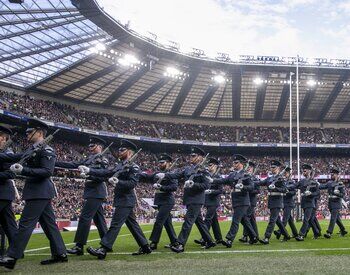 With great support from the volunteers, I progressed over the years and came into my own, attaining a position of responsibility for the younger cohort and allowing me to start instructing and encouraging the other air cadets. It was both enjoyable and rewarding, being able to give something back to the squadron in that way, all the time remembering that I was once in their shoes.
Being an air cadet gave me the skills to get to where I am today – an RAF Regiment Gunner on the Queen's Colour Squadron, 63 Sqn RAF Regiment. This is my third year with the Squadron and every day I'm proud to be representing such a highly regarded part of the force. Our role is dual purpose: ceremonial duties in the public eye and field duties. I've had to earn my spot here as standards are kept exceptionally high – you get out what you put in – every single person on the squadron works hard and every day is busy, but I thoroughly enjoy it.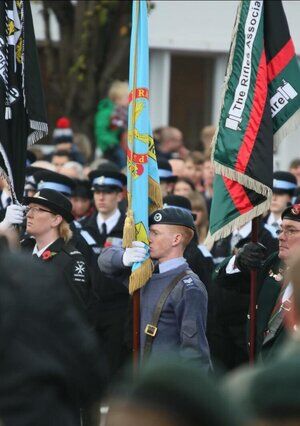 My standout moment to date was leading the 48-man drill show at Twickenham Stadium for the England versus Ireland RFU Six Nations game in 2019. To perform in front of thousands of people, let alone a global audience, was incredible. I tried not to overthink it at the time so I could focus on the task at hand, but when the national anthem played, I felt nothing but full-on pride.
What I learnt as an air cadet all those years ago, set me on path that I'm very proud of. From the friends to the adult volunteers, it's great to still be in touch with some of them – every person taught me something that helped me get to where I am today.
SAC Jack Hawkins serves with the RAF Queen's Colour Squadron, proud supporters of the RAF Benevolent Fund.