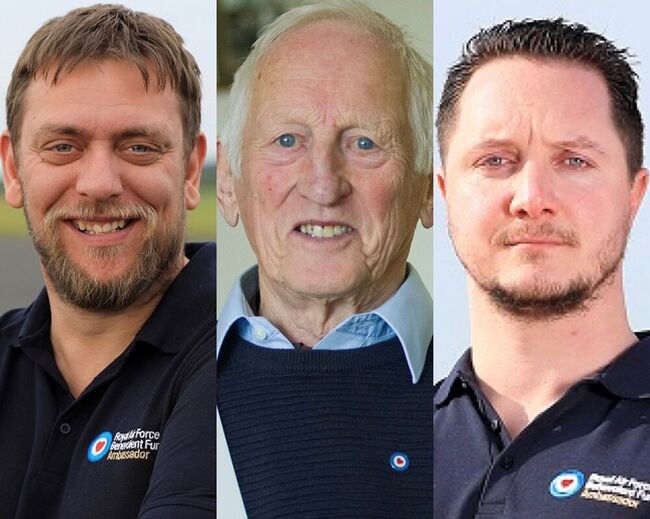 Get help if you need it this Men's Health Awareness Month
This month is Men's Health Awareness Month and this week also saw Stress Awareness Day and next week is International Stress Awareness Week. 
With these awareness initiatives comes a timely reminder that help is available for both physical and mental health for members of the RAF Family, from the RAF Benevolent Fund.
The first and often most difficult step is to ask for help, but positive change can only happen if you do. 
Former SAC Mike Goody is no stranger to adversity having pieced his life back together after he received life-changing injuries in an IED blast in Afghanistan in 2009. 
Despite that, when he needed support 11 years later, asking for that support proved to be the hardest thing. 
He said: "When you struggle with your mental health you learn to manage it, it is not something that goes away. It is very tough to deal with it and not let it rule your life.
When my dad died in July 2019 and I was not able to psychologically control that and manage my own feelings.
"His loss had a huge impact on my mental health and then I took on all the responsibility as my mum was dealing with her grief. I had to step up and make sure she was doing OK; the bills were paid and she had food in the house.
"I had to put my own grief aside and putting things like that to the back of your mind is not a good place, it does not go away. So when things started to calm down a bit the cracks started showing. I found myself not wanting to do anything.
"I would lie in bed all day, until 1pm and then I would get up and drink. I was not enjoying the things I normally would – that was a warning bell."
Mike sought help and the Fund provided the counselling he needed. 
Mike added: "It gave me the ability to vent my feelings and frustrations to someone else, and also helped me to come up with techniques to cope. It was just nice to have access to someone who knows all these different things to try. I do not want to think about what would have happened if I had not had the counselling. I dread to think."
When RAF veteran Colin Stegeman's wife Margaret died in June 2020, after a long battle with blood cancer, he was left bereft. 
He said: "You think you're strong and can take anything. But to have your wife who you love, to have her gradually dying over a long period takes something out of you."
Colin received bereavement counselling through the Fund to help him come to terms with Margaret's loss. 
He added: "Thank goodness the Fund treated me so well. I had no worries about accepting the Fund's help, because I worked very hard in the RAF."
Another lifeline for Colin, since Margaret's passing, has been taking part in the Fund's Telephone Friendship Groups, where he can combat loneliness by chatting to other RAF veterans and their partners each week. 
"It's good fun. Not only do we talk about the RAF we talk about the situations that we have in our lives," he said. 
Matt Neve joined the RAF as a driver in 2001 at 16 years old, but his career was cut short sooner than expected when he was medically discharged with post-traumatic stress disorder, in October 2004.
Matt said: "When I was discharged, I received very little support. My relationship with my wife began to break down and I became very angry at the world. In 2015 I started a new job and it was a particularly difficult time for me.
"A year later, in June 2016, I took part in an archery taster session, after a friend told me about the physical, psychological and social benefits sport can often have. When I took part in the session and one of the coaches said I had a natural ability in archery, it felt great."
Soon opportunity came knocking at the Invictus Games, where Matt took part. 
He said: When I'm drawing the bow I'm only thinking about one thing; hitting that target. It allows me to focus my attention and forget about everything else around me. I approached the RAF Benevolent Fund for support in funding my archery equipment to enable me to continue my sport recovery. Following successful try outs I was notified that I'd made the Invictus Games UK squad."
He added: "Sport has helped my recovery by giving me something to focus on other than my mental health, it helps me switch off and focus. It makes me look forward to what I can achieve and aspire to. Most of all it makes me believe in myself."
Find out more about the Fund's listening and counselling service here.