James Henderson: My story
Today Armed Forces Week shines a light on veterans and their service. Seven years into a job he hoped would be for life, James Henderson was given the news injuries sustained during his service would mean he had to leave the career he loved. James struggled on until last year, when he reached out to the RAF Benevolent Fund for help. He takes up his story.
"I was hoping to do my 22 years but that was cut short through injury and I was medically discharged in 1990. I suffered a back injury and shin splints that would not heal. I just could not carry on as effectively as I should have been able to. The decision was made that the best thing to do was for me to leave.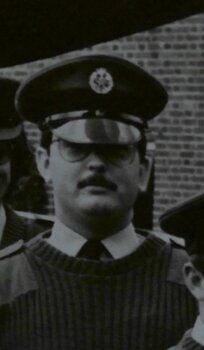 "I started off working in RAF admin discipline, but later I re-mustered and qualified as a survival equipment fitter. My job was to make sure when the air crew went up flying, they were going up with the equipment that would help them do their job or survive should the worst happen. It was my job to make sure they were safe."
Since leaving the RAF, James, now 55, has been diagnosed with fibromyalgia, osteoarthritis and complex PTSD attributed to his experiences while serving. His varied needs have meant a lifetime of pain until the Fund stepped in to provide mobility equipment to help James live comfortably and more independently in his Fife home.
"The people who have been in contact with me have been so in tune with the pain and suffering I have been going through. They have been so helpful, trying to make sure that my life was made better.
"The items they have provided for me have made such a difference; the riser recliner chair and riser bed to help me get comfortable. The mobility scooter also has a shed to house it in and will make it easier for me to get out and about, and the Fund also helped me get a wheelchair adapted vehicle or WAV, so I can now take my mobility scooter so get around town or just take my service dog out for some fresh air.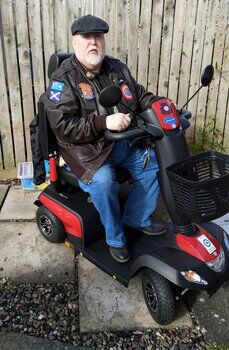 "Before the Fund offered me help, I did not know where to turn to. I just kept getting closed doors until someone put me on to SSAFA, who contacted the Fund who sent an occupational therapist to assess me before they could offer the help I so desperately needed.
"The Fund's help has lifted my life from darkness into the light. I would recommend anyone to contact the Fund. Words cannot say how grateful my wife and I are, all I can say is that we are eternally grateful for all the help from the RAF Benevolent Fund."
By James Henderson