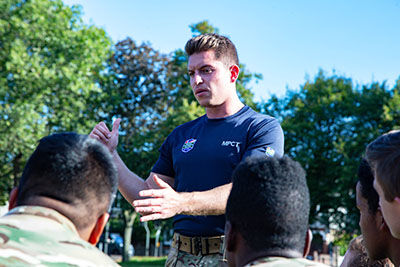 RAF veteran David gets set for Invictus Games in Sydney
Former Senior Aircraftman David Atkin has been selected to represent the United Kingdom in the powerlifting, discus, indoor rowing and running events at the Invictus Games in Sydney.
David, who lives in East Putney, London, will join 71 other wounded, injured and sick UK military personnel and veterans as they compete in the fourth Invictus Games competition later this month, following the inaugural event in London in 2014.
David, now 29, joined the Royal Air Force Regiment as a section machine gunner in 2008 at just 19 years old.
In 2010, David's military career was cut short whilst on deployment in Afghanistan. The vehicle he was travelling in was involved in a road traffic accident resulting in David breaking his back. A year later he was medically discharged after four years of service. David underwent numerous spinal operations but still suffers with daily pain.
The RAF's leading welfare charity, the RAF Benevolent Fund was able to assist David with practical support when times were tough. They helped fund some essential equipment in his home, a riser recliner, and provided financial assistance towards his rent when he was unable to work after one of his operations.
David said: "When I was medically discharged from the RAF I felt cheated. I'd barely started out in my career before it was gone. Things got on top of me and I spiralled into a pretty dark place. I became depressed, gained weight, stopped going out and things broke down in my marriage.
"Thankfully things are slowly improving. I've started going to the gym, the weight dropped off and I'm finally feeling happy in myself again.
"The Fund's support was a lifeline at the time. It was that practical support that kept me in my home when I was unable to work, I can't thank them enough for that. At 22, you don't expect to be looking at reclining chairs but that was my reality at the time."
Last year the RAF Benevolent Fund spent £744,000 on mobility aids and more than £14 million on supporting RAF veterans and their families.
On his Invictus journey, David said: "The Invictus Games is a step in the right direction for me though. I watched the 2017 Games on the TV and saw how it changed people's lives. I knew I wanted a bit of that. So I worked hard, trained every day and applied.
"When I found out I'd made the team – a weight lifted – I thought, this is a new chapter for me. And I felt grateful, like it was meant to be. I had a one in eight chance of getting selected, so this is my chance now."
David now works for the Military Preparation College who help 16-23-year-olds develop their fitness, vocational qualifications, and employability skills and prepare for employment in the British Armed Forces.
David explains: "I have a fantastic job now. I feel like I am really making a difference to people's lives and passing on my knowledge and experience of the military, it's the perfect job. I still feel like I'm part of that family and that's important to me."
The Sydney Games will attract more than 500 competitors from 18 nations to compete in 11 adaptive sports and will recognise and thank families and friends for their role and the challenges they share in supporting our wounded personnel.
David ends: "I'm feeling a little bit nervous but really looking forward to it at the same time. I just want to get out there now and my parents will be joining me too, which is nice. It's a great reassurance to know that the Fund are there for me now and into my future."
Air Commodore Paul Hughesdon, Director of Welfare and Policy at the RAF Benevolent Fund, said: "The rehabilitative nature of sport has been well documented and David is a prime example of the difference it can make. We are incredibly proud to have been able to help him on his journey to better health and wish him all the best at the Invictus Games in October.
"But it's important to say that after the athletes return home and the Invictus excitement dissipates we will be here to support those who are in need."