Supported by VIVO Defence
We're thrilled that VIVO Defence has decided to show its support for the RAF Family.
Established in 1919, the Royal Air Force Benevolent Fund remains committed to supporting current and former members of the RAF, their partners and families, providing practical, emotional and financial support, whenever they need us. 
In 2022, thanks to the generosity of our supporters, we spent £17.9M on supporting more than 40,700 beneficiaries. Our youngest beneficiary was a 10-month-old baby with Down's Syndrome, whose parents we gave a grant to for a specialist high-chair and play equipment. Our oldest beneficiary was a 105-year-old former WAAF who we supported with bathroom adaptation costs so she could continue to live safely in her own home. 
Find out how you can show your support for the RAF below.
Mick, a former RAF Police Dog handler, was injured when he stepped on a mine in Afghanistan, causing irreversible damage to his left foot. The RAF Benevolent Fund provided a loan that enabled Mick and his wife Lorna to buy a more suitable home in Elgin, close to family, which made a huge difference in their lives.
As Mick said, "The fact that the Benevolent Fund has helped us to move from a house where it took me 10 minutes to get up and down the stairs to a home that's easily accessible and close to family where we can get support, has made a huge difference to our lives. They've lifted this unbelievable weight from my shoulders."
The RAF Benevolent Fund is dedicated to supporting serving and former RAF personnel and their families in times of need. Your donation can provide life-changing support, like the loan that helped Mick and Lorna. Every pound you give can make a real difference to someone who has made tremendous sacrifices for our country.
Please consider donating today to show your support for these brave men and women.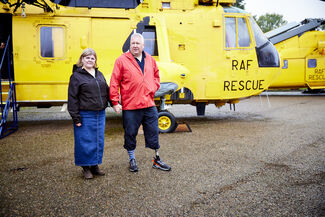 Take on the C-130 Challenge
Take on 130 miles in 47 days to mark the closure of 47 Squadron, the home of the beloved and iconic C-130 Hercules.
However, wherever, and whenever you complete your challenge is up to you - all that matters is you will be helping members of the RAF Family to live safer, more dignified lives.
You can take part as an individual or as part of a team for just £15 per person.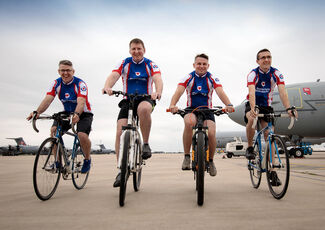 We all have our daily or weekly essentials; a coffee for the walk to the office; your lunchtime meal-deal; a Netflix subscription; a weekend take-away from your favourite restaurant.
Your regular gift to the RAF Benevolent Fund through your salary can ensure that no member of the RAF Family faces adversity alone, so that essentials that allow them to live in comfort and with dignity are covered.
To be eligible, you must be a UK tax payer and please check with your employer that there is a payroll giving scheme set up at your workplace before signing up. We are working with Payroll Giving in Action who will deal with the necessary administration work with your employer's payroll department to set up your regular gift. You can choose if you'd like to hear from the Fund about our work and the impact of your donation and, if so, whether this is by email or post.