Airplay youngster Tia Carter had the time of her life earlier this month when she was invited to perform the Wimbledon Ladies' Final Coin Toss, by the Wimbledon Foundation. In this guest blog, Tia gives us the lowdown on her unforgettable day.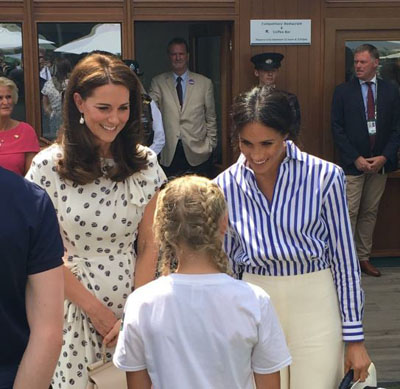 After I had done some TV interviews, I was taken on tour round Wimbledon by Rachel, from the Wimbledon Foundation, and she took us to some unbelievable places. We got to go in the Royal Box which was amazing and to see the goodies that all the guests got. The lady who showed us round then gave me some gifts from the Royal Box. I got a silver pin, chocolates and a Royal Box programme.
It was then onto something that I was very excited about and that was to be in the line up to meet the Duchesses of Cambridge and Sussex.
The Duchesses arrived and I was first. I was very nervous as I wasn't used to talking to Duchesses. I thought that they were so pretty. I first met Kate who said to me: "You must be Tia and what is your part today?"
I told her I was doing the Coin Toss, she asked me my age and then said she absolutely loved my hair as it was in French plaits and that her daughter Charlotte would love it. She then said she would look out for me on Centre Court. I then met Megan also asked what I was doing today and how old I was. It was amazing getting to meet them both in person.
At lunch in the players' restaurant we sat two tables away from Rafael Nadal who was playing board games waiting to carry on with his match.
Walking out onto Centre Court was nerve wrecking, I had practised it earlier in the day with the head umpire Andy Jarrett and he made me feel a little easier. But when we did it for real there were so many people in the crowd I couldn't quite believe it. Once I had done it and got to sit back with my dad I wanted to do it all over again.
Angelique Kerber came over first and she shook my hand and said it was really nice to meet me but when Serena Williams came over she didn't talk to me. She just smiled but I could see she was focused on the game.
The best part of the day for me was performing the Coin Toss as the atmosphere was amazing but I also loved meeting the Duchesses, something that I will never forget. Someone who I will also never forget was the Head Groundsman Grant Cantin. He was amazing and made me feel so welcome. At the end of the final he presented me with two embroidered towels, one from Serena and one from Angelique.
I will never forget the whole experience and I hope my mum was watching down on me and that I made her proud of me as I am of her.
I would particularly like to say a massive thank you to Rachel and the team from the Wimbledon Foundation; Fiona and Naomi and the rest of the team at the RAF Benevolent Fund; Grant the Head Groundsman (who is now my new BFF) I thought he was cool and so friendly he showed me round Centre Court and gave me some absolutely amazing gifts; and Hayley Phillips who works at RAF Brize Norton as part of the welfare team and also was part of Airplay and she is the reason I was there. I think she is awesome and I thank her so much for nominating me.
By Tia Carter
Tia and her family have been supported by the RAF Benevolent Fund after her mum Joyce passed away suddenly last year. Tia has been a member of Airplay for some years and found the youth support sessions a great comfort. Find out more about Airplay on RAF stations.