As one of the oldest flying Squadrons, Number 56 mark their centenary year with a series of events.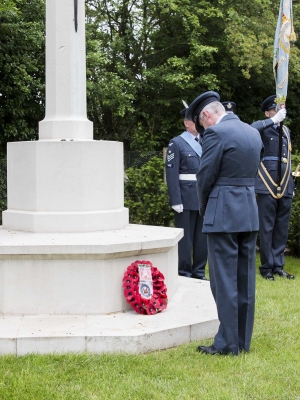 The celebrations included a commemoration service held at North Weald on 8 June, a dining in night and later this month a staff ride in France passing through some of the World War One and World War Two sites of importance.
Formed under the parentage of Number 28, 56 Squadron were born on June 8, 1916 at Gosport. They were the first Squadron to receive SE5 biplanes and were responsible for getting the aircraft operationally ready before their move to France. Conducting mostly aerial attacks, the unit saw action in the Battle of Messines, the Third Battle of Ypres, the Battle of Cambrai and the Battle of Amiens.
The outbreak of the Second World War saw the unit based at RAF North Weald, following an earlier period of disbandment. The Squadron was armed with the Hawker Hurricane which they flew during the Battle of France, the Dunkirk evacuations and for the entire period of the Battle of Britain.
Number 56 was the first unit to receive the Hawker Typhoon which was put to the test in 1943 during the fighter-bomber operations. In spring 1946, the unit converted to Meteor jet fighters, these would stay for another nine years.
In the 1960s the Squadron became Fighter Command's official demonstration team, flying Lightning aircraft, with a team of nine performing around the world at various air shows.
A move to RAF Akitori came in 1967. This would be the Squadrons home for seven years before they returned to the United Kingdom in 1975.
In 1976, the Squadron adopted the Air Defence role with the McDonnell Douglas Phantom FGR 2 at RAF Coningsby. The new 56(F) Squadron quickly relocated back to RAF Wattisham where they flew the Phantom until July 1992, when the Squadron number was assigned as the Reserve Squadron for the Tornado F3 Operational Conversion Unit. Later in 2003 and in preparation of the Eurofighter Typhoon operations, came a move to RAF Leuchars.
On 18 April 2008 No 56(R) Squadron hung up their fighter boots and the number plate was passed to the Air Command and Control, Intelligence Surveillance and Reconnaissance (C2ISR) Test and Evaluation Squadron, as part of the Air Warfare Centre.
Now based at RAF Waddington, the Squadron is an invaluable source of specialist expert advice in airborne command and control, airborne electronic sensors, airborne ground surveillance, aerospace battle management and intelligence exploitation.